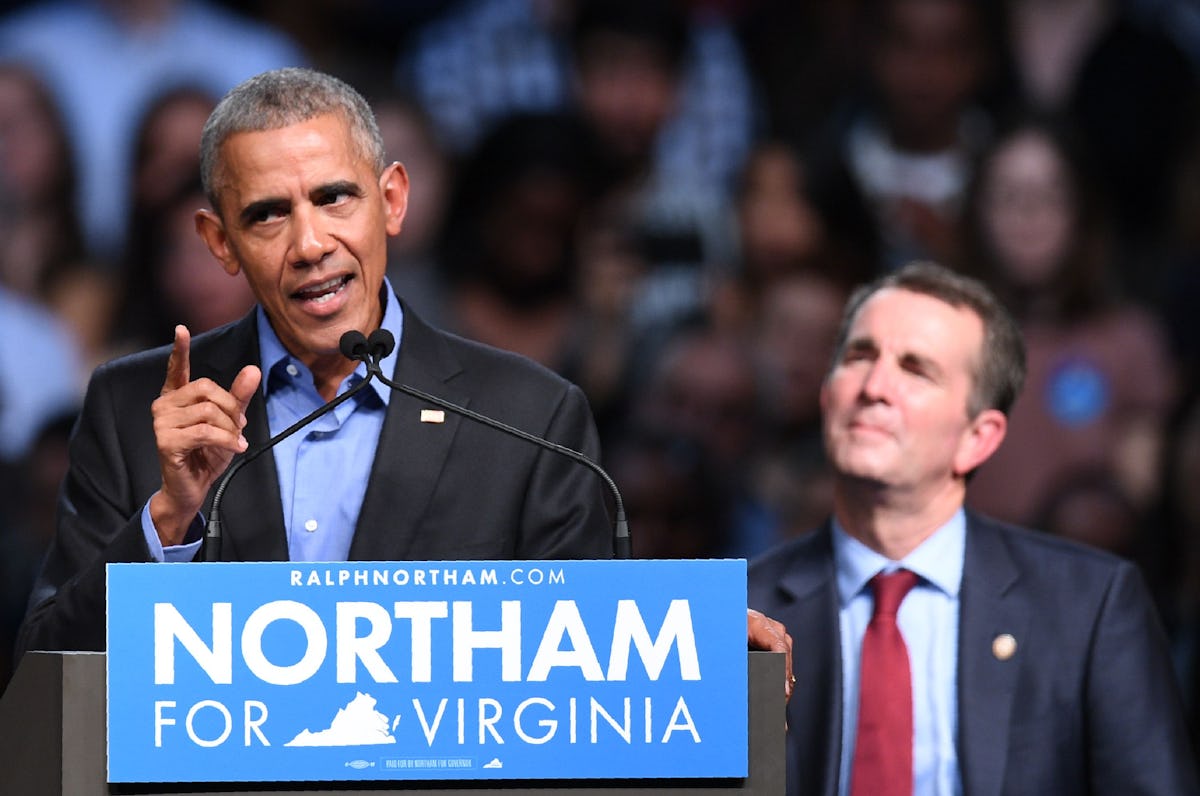 Obama Slammed Trump's Politics Without Using His Name Once
JIM WATSON/AFP/Getty Images
On Thursday, Oct. 19, former President Barack Obama concluded his return to the political arena with a speech that featured veiled, yet not-so-subtle criticism of the politics of current President Donald Trump. Those criticisms came during a rally in Richmond, where Obama campaigned for Virginia gubernatorial candidate Ralph Northam, who's also the state's current lieutenant governor. During Obama's Virginia campaign speech, the former president remarked on the current state of politics, telling the crowd
Folks don't feel good right now about what they see. Maybe they don't feel as if our public life reflects our best. Instead of our politics reflecting our values, we've got politics infecting our communities. Instead of looking for ways to work together and get things done in a practical way, we've got folks who are deliberately trying to make folks angry, to demonize people who have different ideas, to get the base all riled up because it provides a short-term tactical advantage.
Obama's appearance in Virginia marked a return to the state both he and former Vice President Biden carried during the presidential campaigns of 2008 and 2012. Former Secretary of State Hillary Clinton also won Virginia's electoral votes during the 2016 presidential election.
During this year's 2017 gubernatorial race, in which Norman is facing of against Trump-endorsed Republican Ed Gillespie, polls indicate the Virginia will lean blue again. Over the past two weeks, Lt. Gov. Northman has carried an average lead of six points across major polls, per Real Clear Politics.
Despite the lead, Obama warned the crowd in Richmond to take nothing for granted. The former president said,
We need you to take this seriously. Our democracy is at stake. Elections matter. Voting matters. You can't take anything for granted. You can't sit this one out. It's up to you. And if you believe in that better vision not just of our politics, but of our common life, of our democracy, of who we are; if you want that reflected in our government, if you want our kids to see our government and feel good about it, and feel like they're represented and if you want those values that you are teaching your children reinforced … then you've got to go out there.
Obama further implored the crowd to express their displeasure at the polls:
I don't want to hear folks complaining and not doing something about it. I think it's great that you hashtag and meme, but I need you to vote.
Obama's appearance in Virginia came after a separate campaign stop. Earlier on Thursday the former president visited Newark, where he campaigned for his former ambassador to Germany, Phil Murphy, New Jersey's Democratic gubernatorial candidate.
During that particular event, the crowd at the Robert Treat Hotel welcomed Obama to the stage with a chant of "four more years."
Obama replied,
I will refer you to both the Constitution, as well as to Michelle Obama, to explain why that will not happen.
Obama's speeches in New Jersey and Virginia came on the same day that his predecessor, former President George W. Bush, also delivered an address that featured even stronger criticism of Trump's politics. During Bush's speech at Manhattan's Time Warner Center, the 43rd president of the United States said,
We've seen nationalism distorted into nativism, forgotten the dynamism that immigration has always brought to America. We see a fading confidence in the value of free markets and international trade, forgetting that conflict, instability and poverty follow in the wake of protectionism. We've seen the return of isolation sentiments, forgetting that American security is directly threatened by the chaos and despair of distant places. We've seen our discourse degraded by casual cruelty. Bigotry seems emboldened. Our politics seems more vulnerable to conspiracy theories and outright fabrication.
Both Virginia and New Jersey's gubernatorial elections will be held on Nov. 7.