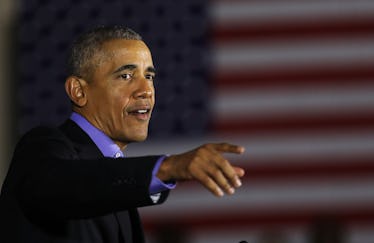 Obama Endorsed A Bunch Of Anti-Trump Politicians Ahead Of The Midterms
Spencer Platt/Getty Images News/Getty Images
The world stopped on August 1, when President Barack Obama revealed a list of 81 candidates he's endorsing ahead of the upcoming midterm elections. Not because it signals that he's making his return to the public eye (although that's certainly worth cheering for, IMO) but because Obama's endorsements for the 2018 midterm elections include a bunch of anti-Trump politicians. Yeah, shady AF/invigorating/awkward/perfect.
Obama announced the list on his Twitter page, which included politicians like Lt. Gov. Gavin Newsom, (D-California); Richard Cordray (D-Ohio); and Stacey Abrams (D-Georgia), all of whom are running for governor of their respective states. In the post, the former president wrote that he believed his endorsements were as "diverse, patriotic, and big-hearted as the America they're running to represent." He also stated his beliefs that the candidates would restore America's standing around the world, before urging voters to take his endorsements into consideration when the midterm elections roll around in November.
Obama continued,
I'm confident that, together, they'll strengthen this country we love by restoring opportunity, repairing our alliances and standing in the world, and upholding our fundamental commitment to justice, fairness, responsibility, and the rule of law. But first, they need our votes.
If any of the names are ringing bells for reasons other than their political careers, it might be because several of them have been involved in spats with President Donald Trump — a vociferous critic of Obama. Like for example Abrams, who clapped back hard at Trump after he criticized her just days ago, on July 25. Trump had initially gone on Twitter to congratulate Republican Brian Kemp for winning the runoff election, however, he threw some shade at Abrams in the process, writing that she was weak on the military, veterans and the second amendment.
Abrams took the insult in stride, though. She shared a screenshot of Trump's tweet along with the caption: "Proud to join the company of Gov. @RalphNortham, Senator @DougJones, Rep. @ConorLambPA, and other Democrats he's campaigned against all the way to victory."
Newsom is another vocal critic of Trump's. Back in June, Newsom taunted the president on Twitter, taking a stand similar to Abrams and urging the president to come to California to campaign on the behalf of Newsom's Republican opponent, John Cox. Trump's job approval in California was just 30 percent in a poll from the previous month, so it seems likely that his endorsement probably wouldn't help matters. In January, Newsom also criticized Trump for vulgar comments he reportedly made when speaking about immigrants from Africa, Central America, and the Caribbean. Trump reportedly called the countries "sh*tholes" during an Oval Office meeting, which resulted in massive amounts of backlash worldwide. Trump later denied using the language, but Newsom called on him to step down.
"You're a joke and a racist, President Donald J. Trump. Resign," Newsom wrote on Facebook, per The Los Angeles Times.
And then there's Cordray, who Trump slammed on Twitter back in May. In his tweet, the president labeled Cordray as a "socialist" and failure who "should not do well" in Ohio's gubernatorial election in November. But Cordray's clapback was even more brutal. He wrote on Twitter:
Very telling that you think $12 billion dollars back to 30 million consumers is a failure, @realdonaldtrump. I never backed down from you or Wall Street. All your name calling won't stop me from fighting those who want to cheat Ohio families, unlike @MikeDeWine [Cordray's opponent].
While we'll have to wait until November to see the outcome of the elections, I think we all can agree that these three candidates have definitely won when it comes to their battles with Trump.