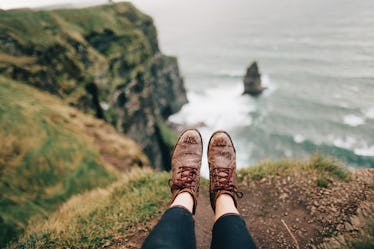 Norwegian's St. Patrick's Day Sale Has $89 Flights To Europe & I'm Feeling Lucky
A classic St. Patrick's Day celebration is extremely hard to beat. There's nothing better than endless dancing, copious amounts of food, and of course, a ton of bright green beer. The holiday is lively and fun, and it really gets you thinking about actually going to Ireland to experience the culture firsthand. If the Irish holiday has you dying to see Ireland in person, rest assured that Norwegian's St. Patrick's Day sale has $89 flights to Europe... and it's most definitely something worth taking advantage of while it lasts.
Despite what you may have heard, drinking green beer and going to parades isn't actually the only way you can get into the St. Patrick's Day spirit this year. TBH, I've honestly never felt luckier in my entire life, because from Friday, March 16 to Monday, March 19, flights to Ireland are really cheap for northeastern U.S. residents. According to Norwegian Air (a popular European airline with awesome discounts), the company will be offering one-way flights as low as $89 from Providence/Boston-TF Green Airport to Belfast, Cork, Dublin, and Shannon. It is also offering flights from New York Stewart International Airport to Dublin, Belfast, and Shannon.
Flights will be for available for those planning on traveling any time between April and June, as well as August through October. These cheap tickets will only be on sale while they're available, so definitely snag that getaway ASAP. Again, you have until midnight ET on Monday, March 19 to purchase your ticket. This truly is the pot of gold I needed to stumble upon this St. Patrick's Day.
Even though the $89 tickets to Ireland are only for a one-way flight, return flights can be as low as $163 back to New York Stewart International or Providence/Boston-TF Green. It all depends on when you ultimately choose to go — but for a round trip flight to Europe, anything under $500 is super cheap in my book. So if you think about it, you're still getting a really awesome deal. Exciting, right?
If the two departure airports don't happen to be anywhere near you, don't worry, because snagging a cheap getaway is still totally possible... that is, if you don't mind going to Hawaii instead. Apparently, flights to Hawaii are at an all time low right now, and it's possible to purchase a round-trip ticket for under $300. That's pretty wild, right? This spring, round-trip flights to the Big Island, Oahu, Kauai, and Maui only cost around $273 out of Denver, and between $350 and $400 for flights out of New York City and Providence. So make sure to kick back, relax, and order a Mai Tai. There's a chance that you'll actually be taking a super affordable trip to Hawaii this year, and TBH, that is the freaking dream. I am trolling Google Flights as we speak, y'all.
This is probably a little cheesy, but there really is nothing that gets me more in the mood to return to Ireland than St. Patrick's Day weekend celebrations. Honestly, this stellar flight deal really has me aching to go on a trip to Europe. And even though flights to Ireland won't actually take place during St. Patrick's Day (obviously), travelers can visit major Irish destinations and attractions... and that's a beyond incredible experience. If you're more in the mood for a tropical vacay, though, trips to Hawaii are also incredibly cheap — and in all honesty, that's certainly worth taking advantage of as well. Wow guys, the wanderlust is so real right now... are you feeling it too? I really need a vacation like, right this second.