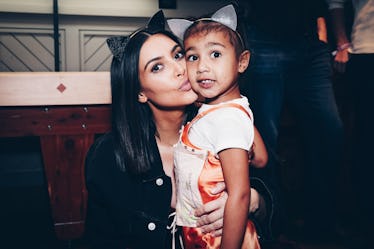 This Video Of North West Putting Makeup On Kim Kardashian Is Too Cute To Handle
Handout/Getty Images Entertainment/Getty Images
It's pretty undeniable that mothers and daughters have a special bond. And from the looks of Kim Kardashian's Friday, Nov. 23 Twitter feed, it seems that even when your mom is a reality TV star and makeup mogul, there are some classic mother-daughter moments that everyone can relate to. For example, when North West played makeup artist to Kim Kardashian with Kim's new KKW Glam Smokey Bible, there were laughs, tears, and just a little bit of spilled foundation.
On Friday afternoon, Kardashian shared a series of videos on Twitter that showed off her new KKW palette in a very unique way. In her first vid, Kardashian tells her fans that the new KKW Glam Smokey Bible is "available today," and she shows off the makeup palette filled with the new goods. In her next vid, Kardashian shares, "I have Miss North here, and she is gonna give me a makeup tutorial..."
Per People, the tutorial got off to a rough start, as the pair accidentally spilled a bit of foundation on carpet of Kris Jenner's closet in her new Palm Springs digs. Like a pro, though, North carried on and began to apply the foundation to her mom's face. Possibly feeling that North had a bit of a heavy hand, Kim guided her mini makeup mogul, and said with a laugh, "I think that's enough foundation."
While North may have gone a bit overboard, you have to admit that it is pretty sweet to see these two share such a quintessential mother-daughter moment playing with makeup. With North still getting a good amount of the base just on one half of Kardashian's face, Kim shared, "I think the foundation has to go everywhere, though." Not missing a beat, North simply replied, "I know."
In the next vids, things don't go as swimmingly. North brought out the KKW eyeliner to give her mom a little makeup-tattoo action, as she began to write "KKW" on the side of Kim's face. You can see North is paying very careful attention to her work as Kim explained to the camera that she was using the "KKW Beauty black eyeliner."
In a moment not caught on camera, it appears that Kardashian wasn't holding still for her makeup artist, aka her daughter North, because the next vid opens on North having a bit of a meltdown after seeing a sudden movement caused her "W" in KKW to wind up all the way on her mother's nose, rather than on her intended cheek. Kim explains,
I moved, I'm sorry, I moved! I didn't know it would cause this much of a big deal! My makeup artists usually don't act this way!
LOL, Kim!
TBH, I can totally feel for North being upset that her plan for her makeup look took a detour thanks to an unexpected movement. I mean, she is trying to impress her makeup mogul mom, ya know?
In the end, North pulled it together, and the pair revealed the final look. Kim introduced the look like a pro, saying, "OK guys, so this is the final look by North West, using the Glam Bible Smokey Volume One."
You can see that North took a different route for the look once her "KKW" plan didn't work out. In the end, Kim sported a dramatic smokey eye and some strategically placed beauty marks on either side of her face. All in all, it is a ~lewk~ and North should be proud.
Keeping it all in the family, Kim shared a few final videos that featured her niece Dream getting in on the the fun with makeup. In a tweet captioned, "Dream with the finishing touches," Kim shared a vid in which Dream, Rob Kardashian's daughter with Blac Chyna, applies some KKW highlighter to really set the look.
The combined cuteness of all the videos is really almost too much to handle. Watching Kim and North share a special mother-daughter moment and seeing Aunt KiKi share some glam time with Dream are just reminders of why so many people tune in to watch this fam every week. Here's to hoping that Kylie and Stormi make a cameo with some Kylie Cosmetics in the next makeup tutorial!