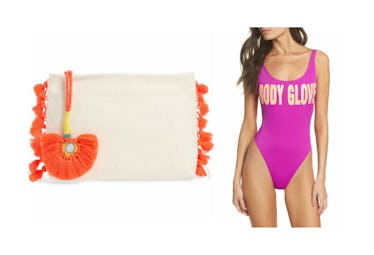 Nordstrom Is Having A Fire MDW Sale & You Can Score Designer Sunnies For $12
Nordstrom
Memorial Day Weekend is the unofficial beginning of summer. But before you get out your pool floaties and crack open the rosé, it's time to recognize the other miracle that MDW brings: Sales! The Nordstrom Memorial Day Weekend Sale 2018 has some of the most epic deals, including lots of fashion finds under for $100.
June 21 is the actual first day of the new season, but as far as I'm concerned, it's all semantics. I'm ready for summer so I hereby decree that summer 2018 hath begun. And what does the beginning of any new season mean? Shopping, shopping, and more shopping! The start of summer is doubly wondrous, though, because on top of having an excuse to buy new clothes, accessories, and makeup, Memorial Day Weekend provides some of the biggest sales of the year.
Come MDW, it's socially acceptable to wear white, show off your toes in your favorite sandals, and drink rosé all d*mn day. It's also acceptable, nay, encouraged, to shop till you drop and hit all the best sales. Nordstrom's Half-Yearly Sale is one of my personal favorites because Nordstrom low-key has everything. Clothing, shoes, makeup, home goods, you name it. Now through Jun. 3, you'll be hard-pressed to find anything better than these must-have sale items from Nordstrom. Check 'em out.
Shiraleah Samba Woven Zip Pouch
Use this colorful bag as a clutch, travel pouch, or makeup case. Tassels are still a big trend and this bag has 'em in spades.
Sam Edelman Navya Woven Leather Mule in White Leather
Close-toed summer shoes can be hard to find but I consider them a necessity. A girl can't always afford a nice pedicure, OK?
BP. Mixed Gingham Print Wrap Dress
I'm fully committing myself to midi dresses this summer. If it's more than a few inches above my knee (shorts excluded), I'm not wearing it. Goodbye to the days of holding down my skirt for every gust of wind and allowing my bare butt to make contact with city benches.
Argento Vivo Gold & Bead Necklace in Multi
It's hard to resist anything rainbow, and this multi-color stone necklace is a sophisticated AF way to wear all the colors.
Body Glove '1989 The Look' One-Piece Swimsuit in Magnolia/Mango
Remember that time Kylie Jenner wore Kris Jenner's Body Glove swimsuit? Now you can, too! The brand is paying homage to the '80s and '90s by bringing back its beloved neon one pieces.
Kate Spade New York Stick To It iPhone X Case & Sticker Pocket Set
Your phone called, it needs a new case, and it needs to bee (get it?) this one. This adorable phone case does double duty as a wallet with the stick-on card case, which you can remove when you and your phone want to fly solo. It's also available for iPhone 7, 8, and Plus users ($40-$44; nordstrom.com).
Converse Chuck Taylor All Star Platform Sneaker
Here's a little secret: Wearing socks and sneakers on the hottest of summer days will actually keep your feet cooler (and cleaner) than wearing sandals. Your feet won't get covered in sweat and grime, and you'll be comfy AF. Just make sure to wear them with no-show socks ($14; nordstrom.com).
Rebecca Minkoff Julian Nylon Backpack in Dusty Blue
Get yourself a backpack and go hands-free this summer. All you should be holding is your phone — your Instagram stories will thank you.
Sanctuary Long Beach Eyelet Contrast Tee
Update your T-shirt collection this summer with exciting design specs like contrast trim and a lace-up back.
Ted Baker London Manicure Set
Say goodbye to your drugstore nail clippers and treat yourself to a professional-looking, travel-friendly nail kit.
Leith 56mm Cat Eye Sunglasses
These clubmaster-cum-cat eye sunglasses have both stylish shapes rolled up into one beautiful, reflective package.
Lush Popover Romper
If you're craving shorter hemlines, go for a romper. You can show off your legs without having to worry about accidentally flashing any unsuspecting pedestrians.
Dee, I'm Audi.