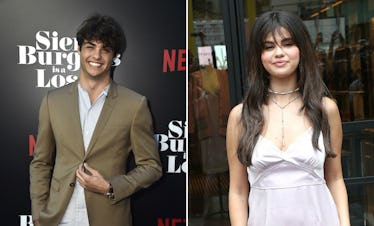 Noah Centineo Left A Comment On An Old Photo Of Selena Gomez That Shows He's Got A Crush
Frazer Harrison/Frederick M. Brown/Getty Images Entertainment/Getty Images
I have some heartbreaking news for the fans that desperately hoped against hope that To All The Boys I've Loved Before actors Lana Condor and Noah Centineo would miraculously fall in love and end up together IRL (despite the fact that she totally has a boyfriend already). While, of course, we can never say never, it looks like Centineo revealed he's got a crush on someone else. That special someone is singer Selena Gomez... you may have heard of her? LOL, of course you have. Let me tell you, fam, that Noah Centineo's comment on an old photo of Selena Gomez might be proof that he's officially shooting his shot for a chance with the pop star, and honestly, I don't hate the idea at all.
The 22-year-old TATBILB heartthrob not-so-subtly revealed his thoughts on singer Selena Gomez in the form of — you guessed it — an Instagram comment.
Fans noticed that Centineo commented on a photo that Nick Styne (who is Selena Gomez's former manager) posted, featuring a black and white throwback photo of himself with the "Back to You" singer.
"Bahhhhh she's gorgeous," the Sierra Burgess Is A Loser actor wrote, and he's absolutely, positively, 100% right.
I mean, just look at the photo below, where Gomez literally looks like she's heaven-sent (she even has a halo, people!):
Eagle-eyed fans who saw Centineo's comment on Styne's post were totally here for the pairing. "O my gad please call her, I ship sm," one user wrote, while another wrote, "ask her out! You both would look so cute."
They're not wrong! These two would make a pretty damn good-looking couple.
Another fan tagged Gomez in her comment and wrote, "OMG! You will be the perfect man for a perfect woman," while another user gave us inspiration for their celebrity relationship name if the two did end up together: Nolena.
It's fierce. And it... actually sounds sort of pretty?
This isn't the first time that Centineo has revealed his crush on the pop star, though. Back in September, he told Seventeen that he "has a lot of celebrity crushes," but Gomez, apparently, takes the cake.
"Selena Gomez seems like one of the coolest people ever," he told the publication, adding, "And she's an activist, as well. And clearly she loves love and is a loving person. I don't know if it's clear because I don't know her, but it feels that way."
Anyone else think that he should get to know her? Because I certainly see a love match brewing.
OK, Selena, I think it's a good time to hit up Noah if you're interested. If you don't have his number, you can always just hop onto Twitter and slide into his DMs. (Hey, if it worked for Nick Jonas and Priyanka Chopra, I'm a firm believer that it can work for literally anyone.)
Gomez recently made a return to Instagram in a new Puma ad, but there's no telling if she's actually ended her social media hiatus that she announced back in September. Gomez posted a selfie on Instagram, writing,
Mood lol (I was looking at myself in the mirror -like an idiot!) Update: taking a social media break. Again. As much as I am grateful for the voice that social media gives each of us, I am equally grateful to be able to step back and live my life present to the moment I have been given. Kindness and encouragement only for a bit! Just remember- negative comments can hurt anybody's feelings. Obvi.
Hopefully, Gomez will be back in action on her own feed soon, too. In the meantime, let's wait and see if ~Nolena~ happens. Fingers crossed!