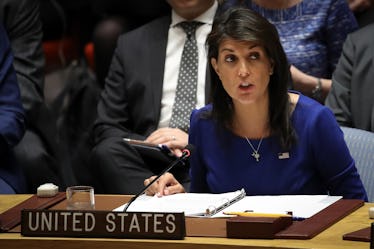 Nikki Haley Clapped Back At The White House & We're Here For It
Drew Angerer/Getty Images News/Getty Images
Nikki Haley is not one to be thrown under the bus. The U.S. Ambassador to the United Nations proved as much in what has been a subtle, but public spat with the White House. The spat started with one White House official telling the press that she spoke out of "confusion," but then ended after Nikki Haley's responded to the White House with a frank clap back: "I don't get confused."
Here's the full story.
On Sunday, April 15, Haley appeared on CBS' Face the Nation and talked about U.S. strikes against Syria, which were a retaliation against a suspected chemical attack in the nation by Syrian President Bashar al-Assad.
When show host Margaret Brennan asked Haley whether there would consequences for Russia and Iran, the two main allies of Assad, Haley responded,
Absolutely. So you will see that Russian sanctions will be coming down. Secretary Mnuchin will be announcing those on Monday if he hasn't already and they will go directly to any sort of companies that were dealing with equipment related to Assad and chemical weapons use. And so I think everyone is going to feel it at this point. I think everyone knows that we sent a strong message and our hope is that they listen to it.
Then came a twist. Mnuchin never made the announcement and The Washington Post reported that President Donald Trump had actually decided against issuing the sanctions. The Post also quoted one unnamed White House official as saying in private that Haley made "an error that needs to be mopped up."
The contradictions between Trump's staff in Washington D.C. and Haley, who's stationed in New York, didn't end there.
On Monday, White House Press Secretary Sarah Huckabee Sanders also put out a statement contradicting Haley. "We are considering additional sanctions on Russia and a decision will be made in the near future," the statement read.
Additionally, The New York Times reported that President Trump grew angry as he watched Haley announce sanctions against Russia on Sunday. Then came what seems like the last straw for Haley.
During a press briefing with reporters, new White House economic adviser Larry Kudlow complimented Haley, but also implied that she had gotten ahead of herself.
"She got ahead of the curve," he said. "She's done a great job. She's a very effective ambassador, but there might have been some momentary confusion about that."
Kudlow's comments prompted Fox News' Dana Perino to reach out to Haley for comment, and the ambassador responded with a short statement: "With all due respect, I don't get confused."
The response from Haley implied a number of things. First, Haley's statement suggested that sanctions against Russia had, in fact, been agreed upon. Second, the statement implies that any miscommunication that occurred after such an agreement was made was the fault of the White House, not hers.
Kudlow would all but confirm both of those suggestions in an interview with The New York Times.
"She was certainly not confused," Kudlow said, according to The Times. "I was wrong to say that —totally wrong."
Kudlow also added, "As it turns out, she was basically following what she thought was policy. The policy was changed and she wasn't told about it, so she was in a box."
The Times also reported that Kudlow called Haley, the 46-year-old former governor of South Carolina, and apologized. Now, Kudlow's public apology begs the question: Why exactly were the sanctions pulled back, if they were actually agreed upon?
While that question remains unanswered, one thing seems certain. There's miscommunication between Trump's cabinet members, and it doesn't look like it's Nikki Haley's fault.
Her clap back made that clear.