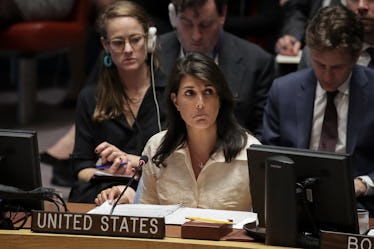 The UN Ambassador Is Getting Panned For Her Response To Israel Killing Protesters
Drew Angerer/Getty Images News/Getty Images
In the wake of a clash between Israeli forces and Palestinian protesters on Monday, an emergency session of the United Nations Security Council was called to discuss rising tensions in the region. U.S. Ambassador Nikki Haley maintained a staunch pro-Israel position in her remarks, before walking out of the session as Palestine's U.N. representative began speaking. Now, Nikki Haley's response to Israel's violence against Palestinian protesters is getting panned.
The complexity of the situation in Israel-Palestine cannot be overstated. The 100-year-old land dispute is marked by a continued failure to achieve peace in the region between Israelis and Palestinians, decades of diplomacy and interventionist military occupation, and worst of all, unparalleled violence. But in the violent clash that followed the opening ceremony of the U.S.'s new embassy in Jerusalem, Israel, on Monday, May 14, one fact was crystal clear: 58 Palestinians were killed by Israeli gunfire and more than 1,000 others were injured.
Haley denied the violence in Gaza was related to the new embassy in Jerusalem.
"Rather, the violence comes from those who reject the existence of the state of Israel in any location," Haley said, per ABC News. "The location of the embassy has no bearing on the specific boundaries of Israeli sovereignty in Jerusalem, or the resolution of contested borders."
She also used a debate tactic that has become something of a Trump-surrogate staple — whataboutism — in which she lists other despicable behavior to deflect from the topic at hand. She listed examples of Iran's destabilizing actions in the region, implying that there are more pressing issues than what took place on Monday. "That is violence that should occupy our attention, too," Haley said.
And then she defiantly walked out of the room, as Permanent Observer of Palestine to the U.N. Riyad Mansour began to speak.
What's so strikingly absent from the conversation about Monday's tragic events, is that Israelis continue to kill far more Palestinians than vice versa, according to Human Rights Watch. As Mansour later explained, the context that is removed from Haley's remarks about the situation is that Israel is very much in a position of power — it has encroached upon land understood as Palestinian, and has regulated the movement of Palestinian people throughout the region by building border walls and fences. Protestors were demonstrating by throwing rocks and tires; Israel's armed forces responded with sniper fire.
Mansour called for an independent investigation into the situation by the U.N. Security Council.
"The occupation is the main source of violence in our region," he said, per ABC News. "Any attempt to falsify this by some does not match reality. To those who have different rhetoric and agendas, why have you so often blocked a transparent, independent, international inquiry?"
Haley's comments were widely rebuked on Twitter — as was both the U.S. and Israeli response to Israel's use of lethal force. The Palestinian victims reportedly included several teenagers and one infant girl, per Reuters.
U.N. human rights spokesman Rupert Colville told reporters in Geneva Tuesday that Palestinian protesters' attempt to cross a border fence in Gaza on Monday was not grounds for lethal force, The Washington Post reported.
"Lethal force may only be used as a measure of last, not first, resort and only when there is an immediate threat to life or serious injury," he said.
When asked by journalists about the U.S. stance on the rising death toll, the highest in one day since the 2014 Israeli assault on Gaza on Monday, White House Principal Deputy Press Secretary Raj Shah blamed the violence on Hamas — a Palestinian fundamentalist group that was involved with the demonstrations.
"Look, this is a propaganda attempt," Shah told reporters. "I mean this is a gruesome and unfortunate propaganda attempt. I think the Israeli government has spent weeks trying to handle this without violence."
Sadly, history has proven that violence is bound to continue. You can donate to charities like Anera, Islamic Relief USA, or Palestine Children's Relief Fund if you'd like to help out with recovery efforts as things cool down for the moment.