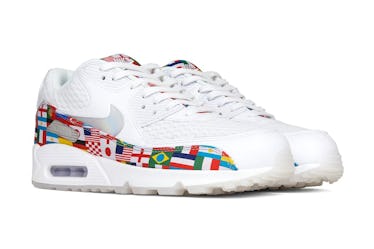 Nike Just Dropped 3 Pairs of Holographic Sneakers For Global Citizens & They're So Rad
Nike is known as the ultimate purveyor of cool when it comes to sporty styles and beyond. It makes sense, then, that the brand would want to release a new range of footwear inspired by the World Cup. Nike's "NIC" Sneaker Pack just dropped yesterday, on the first day of the global soccer (or football, depending where you're from) tournament and despite not even being a sports fan I'm hoping to score one of its offerings.
When Nike was founded way back in 1964, it was originally called Blue Ribbon Sports. In 1971 it obtained the name we all know and love so well but has continued to create products meant to optimize athletic performance on fields, courts, and beyond. The company's name itself was inspired by Nike, the Greek god of victory. As described on the brand's website, "Our mission is what drives us to do everything possible to expand human potential. We do that by creating groundbreaking sport innovations, by making our products more sustainably, by building a creative and diverse global team and by making a positive impact in communities where we live and work." While yes, many of us wear Nike simply because it looks rad, it's clear that the brand hinges on its sports-centric heritage. So it's only appropriate they would release a collection in honor of the biggest soccer event of the year.
If you do follow sports (Bueller? Bueller?) then you know that the World Cup kicked off yesterday with a match between Russian and Saudi Arabia. Russia took home the win five to zero in a bold start to the tournament. Today, Egypt faces off against Uruguay, Morocco faces off against Iran, and Portugal faces off against Spain. Get ready to hear cheers and screams and groans as you walk down pretty much any street because the matches are going to be intense!
The best thing about Nike's newest release is that no matter which one of the teams you're cheering for, the styles within it will still resonate with you. Featuring a colorful pattern made up of tiny flag motifs from countries all over the world, each shoe boasts a truly global appeal.
First up is the Air Max 90 NIC ($140, featuresneakerboutique.com), which boasts the colorful flag pattern along its sides and on its tongue. The rest of the shoe is composed of crisp white canvas. An iridescent swoosh and chunky tread finish off the style, giving it a sport-meets-streetwear appeal.
The Nike Sportswear Air Zoom Spiridon '16 NIC ($159, sneakerstuff.com) is up next and looks more in line with typical running shoe styles. It features a white and gray mesh silhouette that's cut through the middle with the flag pattern, under which a chunky sole rests. An iridescent swoosh and sporty silhouette complete the style.
And finally, there's the Nike Sportswear Air Max plus TN NIC QS ($186, nakedcph.com). If you're really, really into the flag print, this might be the pick for you, seeing as the print constitutes nearly the entire sneaker. White squiggly piping on the shoes sides adds some design intrigue, while clear plastic windows within the treads give the shoes a futuristic appeal.
All three of the styles are currently available, so if you're planning on heading to Russia to catch a game or two, snag your pair now and look every part the in-the-know soccer fan. But like I said, even if you're not into sports, these shoes still make one bold fashion statement. Thanks to their rainbow color palette they'll match just about anything. Global citizen, global dresser—what's more stylish than that?