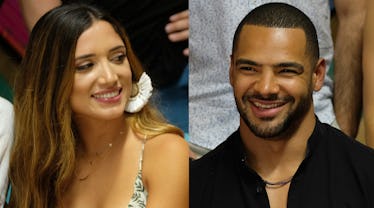 Nicole & Clay's Astrological Compatibility Explains Their Instant Attraction
I think we can all agree that Bachelor In Paradise is really bringing it this season, especially if you're all-in on the romance growing between Nicole Lopez-Alvar and Clay Harbor. It hasn't exactly been a smooth road for these two, considering the whole physical fight between Jordan and Christian over Nicole, and later, Clay's ex Angela showing up in Paradise. It's safe to say they've already faced some challenges, and yet, they've stayed pretty solid. But do they have what it takes to go the distance? Considering Nicole and Clay's astrological compatibility, the answer may give fans of this couple some cause for concern.
Nicole was born on Nov. 23, under the sign of Sagittarius, and Clay's birthday is July 2, which makes him a Cancer. These two signs have a ton of initial chemistry, which is why they often make for such unbreakable BFFs. However, when it comes to romance, these signs face serious hurdles, as their needs and desires in a relationship are often polar opposites. While a lasting romance is certainly possible between these two, it's not the easiest and most natural of matches. So, this could either make for an epic romance, or end in an epic Paradise heartbreak. Here's what we can surmise about Clay and Nicole's connection based on their astrological compatibility.