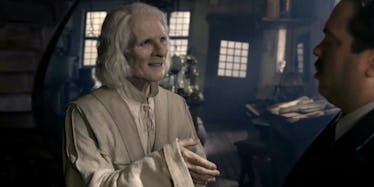 This Original 'Harry Potter' Character Makes An Epic Appearance In 'Fantastic Beasts 2'
Warner Brothers
Fantastic Beasts: The Crimes of Grindelwald does everything it can to tie itself back to the original Harry Potter films as if it fears audiences will not fully accept this new story unless it is thoroughly based in the first one. At times, this can get a little trying. (For instance, McGonagall's appearance as the Head of Gryffindor is incorrect, considering her age in the Potter films.) But when the callbacks work, they are delightful, such as Nicolas Flamel's role in Fantastic Beasts 2. Warning: Spoilers for Fantastic Beasts: The Crimes of Grindelwald follow.
Most Potter fans recognize Nicolas Flamel from the original Harry Potter and the Sorcerer's Stone novel, when he turns up on a chocolate frog card. His appearance is actually something of a joke, an Easter egg for parents reading aloud the story to their children to recognize and enjoy. Flamel, after all, was a real person. A legendary French scribe, the real Flamel lived in the middle of the 1300s in France, famous for his experiments in alchemy. After he died, he wound up a little bit like Elvis, with conspiracy theorists claiming he discovered the "Philosopher's Stone" and found the secret to immortality. Flamel, they argued, was (like Jacques Brel) alive, well, and living in Paris.
Since Rowling's first book was about the Philosopher's Stone (changed to Sorcerer's Stone in America), it only made sense for her to reference this conspiracy theory and claim it to be true. Having Dumbledore be friends with his fellow wizard was merely icing on the cake, and helped ground her fledgling world, building in the legends of our own.
Fantastic Beasts hyped Flamel would be making an appearance, putting him in one of the trailers and letting everyone know he would be played by the Mexican-French actor Brontis Jodorowsky. Once again, this makes sense in Rowling's world build. After all, Flamel was French. Naturally, he'd be in Paris for Newt and company to run into.
Pairing Flamel with Jacob, the muggle of the group, is a brilliant bit of business, but what fans could not have imagined is this wizard, who has been going for hundreds of years by this point, still has it where it counts. When it comes to leading the charge against Grindelwald's magic, age and wisdom beat youth and a will to slaughter every time.
When the main cast arrives at Grindelwald's speech at the climax of the film, Flamel doesn't seem to be with them inside the building. But when Grindelwald casts a giant spell of blue fire to blow across Paris, killing muggles willy-nilly, Flamel turns up like someone just called his cue. Gathering everyone who has made it out of the mausoleum alive, including Newt and Theseus Scamander, Tina Goldstein, Nagini, Yusuf Kama, and a few extra Aurors, he leads them in a giant linked spell creating a circular boundary around Grindelwald's fire and dousing it before it can escape and hurt anyone in Paris.
As the Scamanders, Tina, and Jacob learn, it's good to have a long-lived wizard on their side. No wonder Dumbledore stays friends with him.