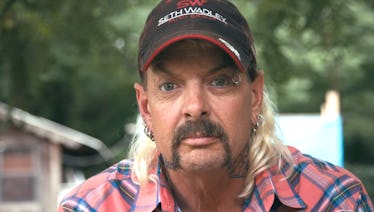 A New 'Tiger King' Scripted Series Officially Cast Its Joe Exotic & I'm Shook
Netflix
Fans lost it when they learned the bizarre and beloved docuseries Tiger King is getting remade into a scripted series. Now, not only is there another scripted series based on the folks featured in the doc, but the second series has already named its leading man: The iconic Nicolas Cage will play Joe Exotic in this new retelling of Tiger King.
Cage will take on the role of Exotic in one of two scripted series that have to do with the zoo owner. Late in 2019 — before Tiger King was even released on Netflix — Saturday Night Live star Kate McKinnon landed an executive producer and starring role in a series based on the Wondery podcast "Joe Exotic." Now, Cage will star in a different Exotic-focused series, this one based on the Texas Monthly article "Joe Exotic: A Dark Journey Into the World of a Man Gone Wild," by Leif Reigstad.
Creators of the Cage-led show, Dan Lagana (known for his work on the Netflix mockumentary American Vandal) and Paul Young, originally brought the idea of creating a series from the Texas Monthly article to CBS and Imagine Television Studios in June 2019. According to Variety, the series is set to include eight episodes.
If you've watched the Netflix docuseries, you likely know quite a bit about Exotic's life and escapades. The upcoming CBS show will center around Joe Schreibvogel (aka Joe Exotic), while he fights to keep his park. It might get a bit deep as well, as Variety reported the series will address Exotic's backstory and how get got sucked into the character he created for himself.
The show marks a major milestone for Cage, as the role of Exotic will be the first regular TV role of the actor's career. He has previously focused on film — you likely know him from his legendary roles in National Treasure, Leaving Las Vegas, Con Air, and many others.
News of Cage's starring role has sparked a quite a variety of reactions from fans on Twitter, but most seem pretty interested in how it'll turn out.
Keep a lookout for further information on the still-untitled series as it becomes available.