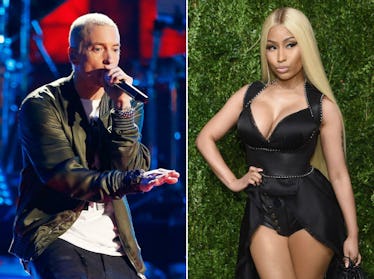 Eminem Responded To The Dating Rumors About Him & Nicki Minaj & Now I'm Just Confused
Christopher Polk/Getty Images Entertainment/Getty Images | Dimitrios Kambouris/Getty Images Entertainment/Getty Images
By now, you've all probably heard those strange rumors that Nicki Minaj and Eminem are dating. While Minaj went as far as confirming that Eminem is her new man on Instagram, the relationship may not be as clear cut as all that. Apparently, the two famed rappers are not exactly on the same page. Neither can seem to decide whether they are or aren't dating. So, what's the world to make of Nicki Minaj and Eminem's dating rumors? Here's a look at the supposed relationship in their own words ...namely, Eminem's.
Basically, after Minaj told a fan that she and Eminem were dating, Eminem took the opportunity to ask his fans what they think. At a concert in Boston on Sunday May 27, Eminem posed the question to the audience:
Yo Boston, how many people in here want me to date Nicki Minaj? So wait, one more time: Let me make sure so I can actually make this official. How many people want me to date Nicki Minaj?
Obviously, the fans responded emphatically, which just egged the 45-year-old rapper on. At the time, Eminem was performing at a three-day music festival called Boston Calling.
Here's a look at how the whole thing went down:
Eminem's onstage shenanigans also encouraged Minaj to take to Twitter to express her amusement at the whole thing:
LMFAOOOOOOOOOOOOOOO. The fact that he's silly & a goof just like me. Love him so much. Em we need you on the #Queen album. That's where our 1st date will be; at the studio while I gaze into ur beautiful eyes as u write ur verse.
Wow, there's definitely something interesting going on between these two and it's genuinely no surprise. They're both total goofballs (in a good way), so their personalities are definitely a match. And it kind of looks like they're trolling fans a little bit — perhaps to retain some privacy while they figure out what's what in the relationship.
At least Minaj has some ideas about what they'd do on their first. But that leads me to ask: if she's planning a first date, then does that mean they're not officially dating yet? SO confusing!
Now that Eminem has responded, there's just one question to be answered: are they actually dating? It seems that Minaj is ready to go public, while Eminem is still testing the waters. Whatever the case, I'm sure the world will get the truth soon!
So, how did all this mess get started anyway? To take you back to the beginning of where this whole thing started, here's a run down of how Minaj and Eminem got to this point:
On Friday, May 25, Minaj posted a video promoting YG's new single "Big Bank". Minaj is featured on the track alongside 2 Chain and Big Sean. Her Instagram caption, a lyric she has on the track, reads: "Told'em I met a Slim Shady. Bagged a EM!!!"
One fan took that to mean she was dating Eminem and asked her if it was true. Minaj's response? A simple yes.
See Minaj's Instagram video:
And that basically set the internet on fire because ...Nicki Minaj and Eminem dating? Yes, yes, yes! But also: what? The relationship seems to have come out of nowhere, and now that Eminem has responded to the rumors, things are even more confusing.
Elite Daily has reached out to both Minaj and Eminem's reps for comment on the dating rumors, but has not heard back by the time of publication.
In any case, it's clear that something unusual is going on. Maybe they're really dating. Maybe they're gearing up to do an awesome collaboration. Maybe they're just messing with their fans. Whatever they're doing, everyone's waiting and watching for the next installment of this saga!