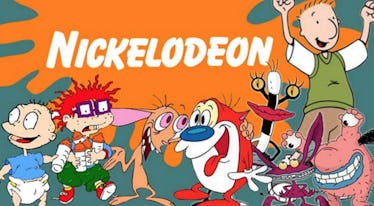 You Can Now Stream All Your Favorite Classic Nickelodeon Shows From The '90s Online
Nickelodeon
If you grew up watching Doug, All That, and The Wild Thornberries every week, then prepare to relive all of your childhood Saturday mornings with Nickelodeon's new online streaming channel NickSplat. Yep — Nickelodeon's classic '90s shows are streaming online right now on the network's newly launched digital channel NickSplat, so you can finally take a trip back to the '90s anytime you want.
The new streaming channel is packed with all of the live-action Nickelodeon series and animated NickToons that defined the children's network in the '90s and early 2000s. Some standouts included on the new service include Clarissa Explains It All, Rocko's Modern Life, The Amanda Show, CatDog, and Legends of the Hidden Temple. Unfortunately, although most of the classic Nickelodeon shows are represented, there is a handful of notable absences on NickSplat: popular shows like Hey Arnold!, Rugrats, Rocket Power, and Invader Zim are not available on the streaming channel at this time. Check out the entire list of shows available to stream on NickSplat below:
AAAHH!!! Real Monsters
CatDog
Doug
Rocko's Modern Life
The Wild Thornberrys
The Angry Beavers
Are You Afraid of the Dark?
ChalkZone
Clarissa Explains It All
Double Dare 2000
Hey Dude
Kablam
Kenan & Kel
The Mystery Files of Shelby Woo
Salute Your Shorts
The Amanda Show
All That
Guts
Legends of the Hidden Temple
Nick Arcade
Legends of the Hidden Temple (Movie)
NickSplat, which launched today (Tuesday, Aug. 28), is now available for subscription on the streaming service VRV. You can choose to either subscribe solely to NickSplat on VRV for $5.99 per month, or pay $9.99 per month for the VRV premium bundle that includes NickSplat along with the several channels available on the streaming service. NickSplat somewhat stands apart from VRV's other channels, which almost exclusively focus on gaming, fantasy, and anime. VRV's other channels are: Crunchyroll, Funimation, Rooster Teeth, DramaFever, Cartoon Hangover, Shudder, Geek & Sundry, Nerdist, Mondo, CuriosityStream, MUBI, and VRV Select.
It is unclear whether the NickSplat channel will add more titles in the future or not, but as of its launch, it does appear that the channel has nearly all of the titles that helped make Nickelodeon such an iconic network for children who grew up in the '90s and early 2000s. The reason that some big shows may be missing from NickSplat right now could be that they have other projects coming out: Hey Arnold! and Invader Zim are both set to release new movies in the coming months, and Rugrats is being revived as a series on Nickelodeon along with getting a new movie. Hopefully, as these series continue expanding, NickSplat will continue to grow and make them available for fans to stream.
NickSplat's introduction will obviously come as a welcome surprise to all nostalgic TV lovers, since it marks the first online service to be solely devoted to Nickelodeon's early content. Previously, the few early Nick series that were available to stream online were spread apart between Hulu, Amazon, and Nick.com. NickSplat is available for subscription now on VRV.