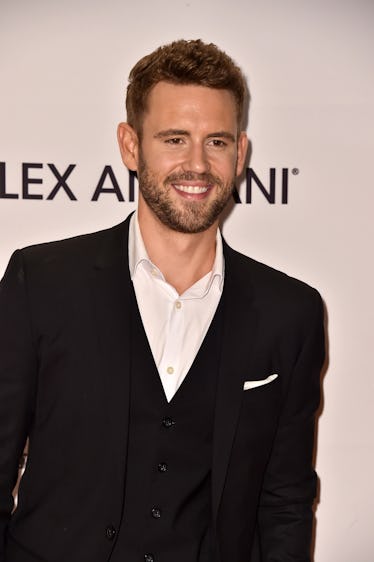 Former Bachelor Nick Viall Made His Acting Debut On An ABC Show & We're Confused
Alberto E. Rodriguez/Getty Images Entertainment/Getty Images
Nick Viall is one of the those reality television celebrities that makes me shake my head and ask, "Why?" He has gotten two opportunities on The Bachelorette, one shot on Bachelor in Paradise, another chance starring on The Bachelor, and then appeared in the ballroom of Dancing With The Stars. He's the reality guy that just keeps giving (or taking, TBH). His latest ABC appearance has fans seriously torn. Nick Viall on Speechless came as a WTF-moment for some, while others praised Viall for another "well-deserved" appearance.
If you can't tell already — I am not a Nick Viall fan. I don't understand him, his supposed appeal, and I don't believe his nice-guy persona. ALSO, HE WAS NOT WORTHY TO BE THE BACHELOR. However, I'm going to choke down all those feelings to explain what exactly Viall is doing on Speechless, and the surprising outpour of support (and undeniable eye rolls) from people on Twitter.
Viall will make his acting debut on the newest episode of Speechless airing Nov. 29. The *ahem* actor will actually be playing an actor named Tyson on the episode. The video teasing the appearance is a little aloof. Viall is rehearsing lines with JJ (Micah Fowler), and from the looks of the video he plays a cocky and kind of doofus guy.
TV Guide explains the plot by saying,
JJ convinces his parents to take him on a college visit but hides an ulterior motive. As his plan unravels, JJ enlists the help of new friend Tyson, an actor who gives the performance of his life to keep JJ out of hot water. Meanwhile, Ray goes wild when he's left home alone for the first time.
There is no detail surrounding if Tyson will be a recurring character, but you might be able to catch Viall on your television every Wednesday at 8:30 p.m. WON'T THAT BE FUN? Some fans agree with my pessimistic view of Viall. Twitter is exploding with comments about the man who just doesn't seem to want to leave ABC.
However, Viall has a large fan base. There was a good amount of people rallying and cheering him on for his new acting gig.
No matter how you feel about Nick Viall — he's definitely ready to move on to the next chapter of his life. Whether it's acting or returning to his first love — software sales. That was his job when he first appeared on The Bachelorette for Andi Dorfman's season. CAN WE ALL JUST TAKE A MOMENT TO APPRECIATE NICK VIALL'S GLOW UP?
Yes, that's my own tweet, but it doesn't make it any less relevant. After four stints on the Bachelor franchise, Viall thought he finally found "the one" in Vanessa. Unfortunately, the two broke up in August.
As far as coping with the break-up, Viall said he just leans on friends and family. He told Us Weekly after the split,
In times that aren't great, you have to kind of spend time with your loved ones ... I'm lucky enough to have friends outside of L.A. I'm heading back to Chicago this weekend, which I think will be good for me. I'm trying to stay positive, being around friends and family. It helps me stay positive.
It seems like him and Vanessa are still on good terms. Although the two remain friends now, Viall admitted,
I still love her very much. I'm not afraid to say that.
Vanessa took her feelings where every millennial goes to dish — Instagram. She posted a picture of herself sitting with a friend while resting her head on her friend's shoulder. The caption read,
It's okay to feel broken. It's okay to cry. It's okay to lean on a friend. In the end, it will always be okay.
Although Nick and Vanessa weren't meant to be — the two are moving on to bigger and brighter things. New year, new ABC show.
Check out the entire Gen Why series and other videos on Facebook and the Bustle app across Apple TV, Roku, and Amazon Fire TV.