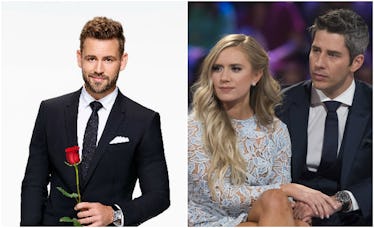 Former 'Bachelor' Nick Viall Just Admitted How Long He Thinks Arie & Lauren Will Last
ABC
Admit it: Bachelor couples are usually more prone to splitting up than getting married. While the success rate of Bachelorette relationships only seems to get better as time passes, couples who met on The Bachelor usually only last a few months before having a very public breakup. Season 21 Bachelor Nick Viall was part of one of these failed relationships, but given the explosive finale of Arie Luyendyk's Bachelor season and his controversial switcheroo to be with his runner-up, Nick finding love again has been the least of Bachelor Nation's worries. However, Nick Viall's quotes about Arie and Lauren from The Bachelor are so supportive and optimistic that I may have to give the couple a second chance.
Nick, who split with his pick Vanessa Grimaldi last August, revealed to Entertainment Tonight that the bad media attention Arie and Lauren Burnham have gone through could help them survive as a couple:
I think a lot of people were curious about his decisions, [and] listen, you always can handle things better. I think a lot of people were confused, but I think more importantly Becca handled herself really well. I think everyone's really rooting for her now, so I think that's what's really important. I think [Arie and Lauren] will work out. Arie risked a lot to do what he did, and he didn't gain any fans from it. I just hope it works out.
Essentially, Nick believes that Arie risking his reputation to break up with Becca and pursue Lauren is a demonstration of just how dedicated Arie is to his future with Lauren. It's a totally reasonable theory, but this is also coming from the guy whose biggest Bachelor controversy was keeping Corinne Olympios around for far too long.
Compared to past franchise leads, Nick has taken a fairly neutral stance on Arie and Lauren. Former Bachelors Ben Higgins and Jason Mesnick both made brief appearances on the live Season 22 finale, nervously shaking their heads at what Arie was doing in pre-taped footage. The two men committed similar acts of offense as Arie did in their own seasons. Ben told both of his final women that he loved them, while Jason carried out the exact switch as Arie, but with slightly more grace than the race car driver/real estate agent.
Ben was against Arie's decision to film his breakup with initial pick Becca Kufrin, but also hoped that Arie was happy with Lauren. He told ET:
Why does this have to happen with cameras around? Why can't this just be done in a private moment away from everybody? I also get the idea that he's committed to allowing us into his love story, and part of his love story involves this... but we got to see some unedited video of a breakup that will definitely affect Becca probably for a long time, and Arie also.
While Jason is also optimistic about Arie's future, he also wished that the latest Bachelor would have avoided the cameras while splitting with Becca. Jason, now married to his former runner-up Molly Malaney, told TODAY:
The thing I wish the most for him, we probably both wish there were no cameras involved, without a doubt. And for him, I wish he would've called me beforehand. I would've been like, 'Don't do it on camera! There should be no cameras involved!'
Of course, after watching a season of Arie floundering about decisions, I have trouble believing that he has listened to any of these Bachelors' advice in the aftermath of his finale. While he may be a little oblivious to how badly those events made him look, Arie seems to be perfectly content traveling Europe with Lauren right now. There are just so many opportunities to say "Wow!"
I still have trouble making peace with Arie's choice, but here's to following in Nick Viall's footsteps and trying to see the positive side of the scandal.