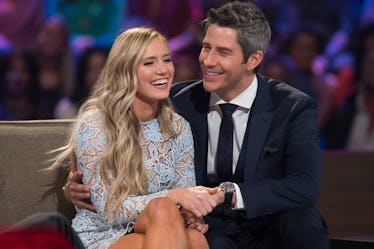 Arie & Lauren Are Traveling After 'The Bachelor' & Their Instagrams Are Everything
In media appearances following the explosive Bachelor finale, Arie Luyendyk Jr. and his new fiancée Lauren Burnham quickly became one of those couples who deliver rehearsed answers to people asking about their relationship. They know who between the two of them starts explaining their future plans and which one finishes the story with a cute smile. Talking about what they're doing post-engagement, Arie and Lauren stuck to the explanation, "We're leaving the country and getting off social media." Well, they definitely left the United States but they haven't exactly been true to the second half of their plans. So, as their Instagrams blow up, where are Arie and Lauren traveling after The Bachelor?
I think the majority of Bachelor Nation was thrilled when Arie and Lauren kept reassuring Chris Harrison, Kelly Ripa, Jimmy Kimmel, and essentially everyone that they were going off the grid. Even though Becca Kufrin emerged from After the Final Rose as the newly crowned Bachelorette, the couple's obliviousness to their mishandling of the situation left a sting for those of us who sided with Becca. I had already moved on from Arie and Lauren once Becca was announced as the next lead and met some of her men, and the thought of them completely disappearing from the public eye was very reassuring.
Cut to a week later, and the couple's social media cleanse hasn't exactly set in. After working their way through ABC morning shows after the finale, Arie and Lauren first jetted off to Iceland. I'm not a fan of Arie, but my icy wall against him chipped a little when I read the caption accompanying a photo of him and Lauren in Iceland:
Posted this because I sent this to my mom and she said she's never seen me happier.
After seeing Lauren act so timidly throughout Season 22 of The Bachelor, it's also good to see her with a genuine-seeming smile. She shared some photos of their time in Iceland as well.
The couple have also maintained active Instagram Stories, sharing less-formal photos of their explorations. They visited a mountainside and went mining in the country's Lava Tunnel, but also posted some shots of vacation experiences I'd rather not see. Arie hanging out in the Blue Lagoon with its purifying mud all over his face is an image I could happily go without.
After exploring the terrain of Iceland, Arie and Lauren hopped a flight to Barcelona, but first, they had to poke fun at Lauren's Bachelor catchphrase when the opportunity arrived. The couple flew out to Barcelona via Iceland-based airline WOW air, and seeing as "wow" is about 90 percent of what Lauren said on their TV dates, enlisting flight attendants to make a "Wow"-themed Boomerang with Lauren was a given.
The two also posed for a photo outside the plane, with Arie introducing their couple name, Larie, in a hashtag. Um, no thanks.
On Instagram, snapshots of their Barcelona trip have been limited to Stories so far, but Arie hasn't hesitated in sharing pics on Twitter.
The real-life equivalent of this tweet is a text from your dad when he and your mom are hanging out at the beach without you. It isn't too surprising that cardigan-wearing Arie would be writing typical dad messages.
While neither of them seem to be giving up social media anytime soon, Lauren and Arie are one step closer to their hopes of a regular life post-show. As they reminded us in most of their TV interviews, the two will return to Lauren's hometown of Virginia Beach, Virginia, after their trip and then move her belongings across the country to Arizona. Something tells me that we have plenty of road trip selfies from these two in our near future.