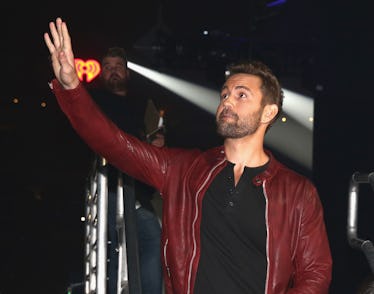 Nick Viall Recreated Arie's 'Bachelor' Season On Instagram & It Will Make You LOL
Joe Scarnici/Getty Images Entertainment/Getty Images
Consider this our official plea to have Nick Viall TV show recaps become a regular thing. The former Bachelor leading man took to Instagram on Monday prior to the Season 22 finale, enlisting the help of franchise alums Dean Unglert and Jared Haibon for a little amateur sketch show action. Nick Viall recreated Arie's Bachelor season through a series of reenactments on his Instagram and we must the say — the result was pretty darn entertaining.
Allow us to now unofficially dub Nick, Dean, and Jared The Bachelor Players, but not as in playboys. In a seven-part Instagram story, Nick and company acted out the defining moments on this season of The Bachelor, basically getting to the bare-bones gist of Arie's journey leading up to last night's dramatic conclusion, but in the span of just over a minute! Did you miss the entirety of the season and need to catch up? It's Nick, Dean, and Jared's rookie comedy stylings to the rescue, complete with wigs and method-level commitment to the craft. OK, not quite... But they definitely serve up a solid breakdown of what went down. They even touch on the whole Becca's ex-boyfriend Ross incident from last week's Peru Fantasy Suites.
First Dean plays Arie, showcasing his "walk-of-shame, soccer dad look." Translation: Grey sweat shorts, salt and pepper wig, and the phrase "I love that." Next, they launch into an "Arie and Lauren Recap" with Nick in the titular role of Lauren. They pretty much just sit in silence for a few moments before exchanging "I love yous." Fair enough.
Then it's the Arie and Becca recap, with Nick now proving his versatility as Becca. "I just really feel like we're connecting and I'm definitely falling in love and i just know we have something really special." Dean's disinterested half-listening Arie eats a sandwich and then utters, "That's great. Wow. I love that. Wanna make out?"
In addition to those informative vignettes, they also reenact Arie confronting Ross. The final act shows Nick as Caroline per that now infamous Women Tell All situation, addressing Arie "I know what you did!" His response (or Dean's response playing Arie) is priceless.
Bravo, fellows. Way to capture the essence of the season. Or something.
Nick and Dean have apparently become Bachelor bros thanks to the friendship-making reality show. Nick recently filled in for Dean on Unglert's Help! I Suck at Dating podcast and they've been spotted hanging out over the past year.
Dean has remained in the Bach spotlight since his time on Rachel Lindsay's season of The Bachelorette, appearing on last summer's Paradise and February's Winter Games. He is currently dating fellow contestant Lesley Murphy. Nick hasn't made a Bachelor appearance since he headlined the show's twenty first season. He was recently linked to actress January Jones, who shot down the rumors last month. "He's a friend of mine. He's super sweet," she explained. "No, I'm single. But, he's a friend of mine and tells me lots of inside scoops."
Perhaps she'll be featured in an upcoming Insta-story? They could always create a fake sneak preview of tonight's After the Final Rose... An Emmy nominee would probably not hurt his "art."
Monday's heartbreaking and cringeworthy finale had Bachelor Nation shaking their damn heads and tonight is probably going to be even crazier. Becca, who you probably already know by now was dumped for Lauren weeks after Arie proposed to her in Peru, has questions and so do we. Arie will get a chance to explain himself. We're listening, Arie.
And, Nick — we'll be watching your Instagram for a proper recap. Don't forget to bring Dean and Jared.