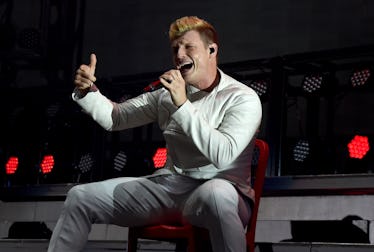 Nick Carter Responds To Sexual Assault Accusations: "I Am Shocked And Saddened"
Kevin Winter/Getty Images Entertainment/Getty Images
On Nov. 21, sexual assault allegations were made against Backstreet Boy member Nick Carter. Melissa Schuman, who was part of the pop girl group DREAM, thoroughly documented an experience with Carter that allegedly occurred when she was 18 years old. Now, Nick Carter's response to Melissa Schuman's sexual assault allegations is making the rounds to the public.
He said in a statement to Elite Daily,
I am shocked and saddened by Ms. Schuman's accusations. Melissa never expressed to me while we were together or at any time since that anything we did was not consensual. We went on to record a song and perform together, and I was always respectful and supportive of Melissa both personally and professionally. This is the first that I am hearing about these accusations, nearly two decades later. It is contrary to my nature and everything I hold dear to intentionally cause someone discomfort or harm.
The accusations against Carter come as part of a long list of men who are being accused of abuse and assault in Hollywood. Schuman even explains that she decided she would come forward with her story if she ever heard of another alleged victim of Carter.
Her essay is long and graphic, which is something she warns readers about from the beginning.
After describing how she was first introduced to Carter through her label and attended a house party at his home, Schuman claims,
Now this is where things take a turn and gets graphic. I want to warn you that what I will be disclosing next describes graphic, violent sexual behavior. Please continue reading at your own discretion.
Schuman claims Carter first invited her into his home office to listen to music, and then forced her into a bathroom. She claims,
... After kissing for a moment, he took my hand and brought me into the bathroom adjacent to his office. He shut the door and we continued to kiss. I asked him what we were doing in there. He didn't respond and continued to kiss me. He then pick me up, put me on the bathroom counter and started to unbutton my pants. I told him I didn't want to go any further. He didn't listen. He didn't care.
Next, Schuman alleges Carter performed oral sex on her, and then pressured her to do the same. She claims he said, "I did it for you and it's only right you do it for me."
I felt scared and trapped. He was visually and clearly growing very angry and impatient with me. I couldn't leave. It was evident to me, that i couldn't leave. He was stronger and much bigger than me, and there was no way I would be able to open that door or have anyone help me.
Schuman goes on to claim that Carter eventually took her into a bedroom and forced himself upon her.
He was relentless, refusing to take my no's for an answer. He was heavy, too heavy to get out from under him. Then I felt it, he put something inside of me. I asked him what it was and he whispered in my ear once more, "it's all me baby."
After that night, Schuman claims she tried to tell people about the alleged incident, but ultimately Carter had too strong of legal representation and she felt her career would be in jeopardy.
At the beginning of her post, Schuman writes,
A short amount of time passed after the incident, I confided in my then manager, Nils Larsen, that I wanted to come forward. He heard me out and said he would do some investigation and would try to find me a good attorney as I intended to press charges.
He later informed me that my abuser, who's name I will disclose later in this article, had the most powerful litigator in the country.
He was right. I didn't have the money, the clout or access to an attorney who was powerful enough to stand up against my abuser's legal counsel. I was told I would likely be buried in humiliation, accused of being fame hungry, and it would ultimately hurt me professionally as well as publicly.
Through a series of events, Schuman says she eventually signed with Carter's manager, Kenneth Crear, who helped organize a duet between the two singers. She says,
Kenneth Crear was a very powerful manager who I thought could help me make my mark as a recording artist ... I tried to justify that maybe something good to come out of something very bad. Maybe this song might help me get signed as a solo artist and I could move on and put everything behind me. Kenneth asked my abuser if he would be willing to sing the duet with me live at my showcase and he agreed.
It was her first encounter with Carter since the alleged incident, and Schuman claims he was clearly frustrated and upset after their performance. Schuman claims that after the duet, she was unable to get a hold of Crear.
When we finally spoke, I was surprised to hear the feedback from the same label head I had spoke to before. Dead pan, I was told, 'He isn't interested in signing you. He told me your vocals were weak in the duet and that he was interested in the song only. Nick will be moving forward with the song elsewhere.' I asked my manager what the game plan was next and he reluctantly said, 'Maybe another showcase. I don't know.' I could tell by his tone that he was no longer interested in working for me and I couldn't help but wonder if Nick had any influence in it.
Elite Daily reached out to Crear's team for comment but did not hear back by the time of publication. The series of events ultimately led Schuman to lose interest in her career as a recording artist.
She concluded her blog post with,
I feel I have an obligation now to come forward with the hope and intention to inspire and encourage other victims to tell their story. We are stronger in numbers. If you are reading this and you have been assaulted, know you don't have to be silent and you are not alone. I know it's scary. I'm scared.
I believe you. I stand with you and together I hope we can bring light to things that have been lost in the darkness for so long.
#MeToo
If you or anyone you know is victim to sexual assault, visit www.rain.org for support.