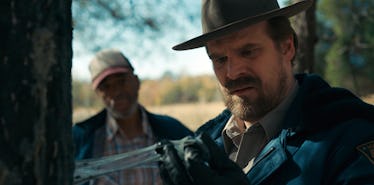 These 'Stranger Things' Season 2 Posters Will Give You All The Nostalgic Feels
Netflix
It's officially October, which means that the Stranger Things countdown has begun. Where Season 1 was mostly dropped unceremoniously at the beginning of last summer with nearly zero fanfare, Season 2 is coming on strong with a full-on promotional blast worthy of a broadcast network show. Along with a slew of interviews and carefully curated spoiler reveals, we also now have brand new posters giving us a glimpse into the world of Stranger Things Season 2.
The move to a near-Halloween release for the new season certainly affords the show brand new references that it didn't have before. It also ties into the hints that this season will lean more into the horror side of science fiction, as opposed to last season's alternate universe and nerd-style adventuring.
But while most of the promotional materials thus far have referenced different '80s movies from the time period, with the cast posed the same way characters were in such classics as Stand By Me (1986), Firestarter (1984) and Alien (okay, fine, technically 1979), they haven't done anything that references the actual holiday of Halloween, or the patron saint of it — The Great Pumpkin, which has been celebrated by Linus and Charlie Brown for so many years.
That is, until now.
Poor Sheriff Hopper, stuck out in the pumpkin patch. A creepy dark, Halloween eve-looking pumpkin patch. Considering the trailer and promotional images have the kids trick-or-treating as they walk past Reagan/Bush lawn signs, we should assume this season will take place around Oct. 30 up until election day, and maybe slightly past it.
Is Sheriff Hopper trying to figure out if his latest report by a neighbor is totally bogus, crazy teenagers, an actual threat from the Upside Down, or the arrival of His Great Pumpkin-ness to Hawkins after all these years of waiting?
Of course, like the earlier posters, this is an homage to another '80s classic, referencing the all-time great horror film Halloween.
Meanwhile, that's not the only poster we've seen this week. The one released last Thursday focuses on poor Will Byers, who is still struggling with his return to the real world almost a year after his disappearance.
Like the Hopper poster, this is a reference to the classic Close Encounters of the Third Kind. (Okay, fine *technically* it came out in 1977. But like Alien, it was a beneficiary of the 1980s home-viewing staple, the VCR.)
(Of course, being a Hobbit fan, all I can think is that someone should tell Will it's a dangerous business going out your front door...)
Posters aren't the only 1980s homage the show has been doing. Over the weekend, as part of the social media account's celebration of October's arrival, Stranger Things created a short video assuring us that all our characters are ready to rumble come launch day. And if you've got a group of characters getting ready for something in an '80s movie that means... it's time to have a montage.
The best part of course, in my opinion is the use of Eggos, an '80s breakfast staple, and of course, Eleven's favorite food of all time. (For the record, Millie Bobby Brown, who plays Eleven is not actually a fan of waffles. But then again, considering how many she had to eat during endless takes, I can understand developing a bit of a dislike for them.)
We should expect more Stranger Things news and '80s references in the next four weeks. Stranger Things Season 2 will consist of nine episodes, all of which drop at 12:01 a.m. on Friday, Oct. 27, 2017, on Netflix.