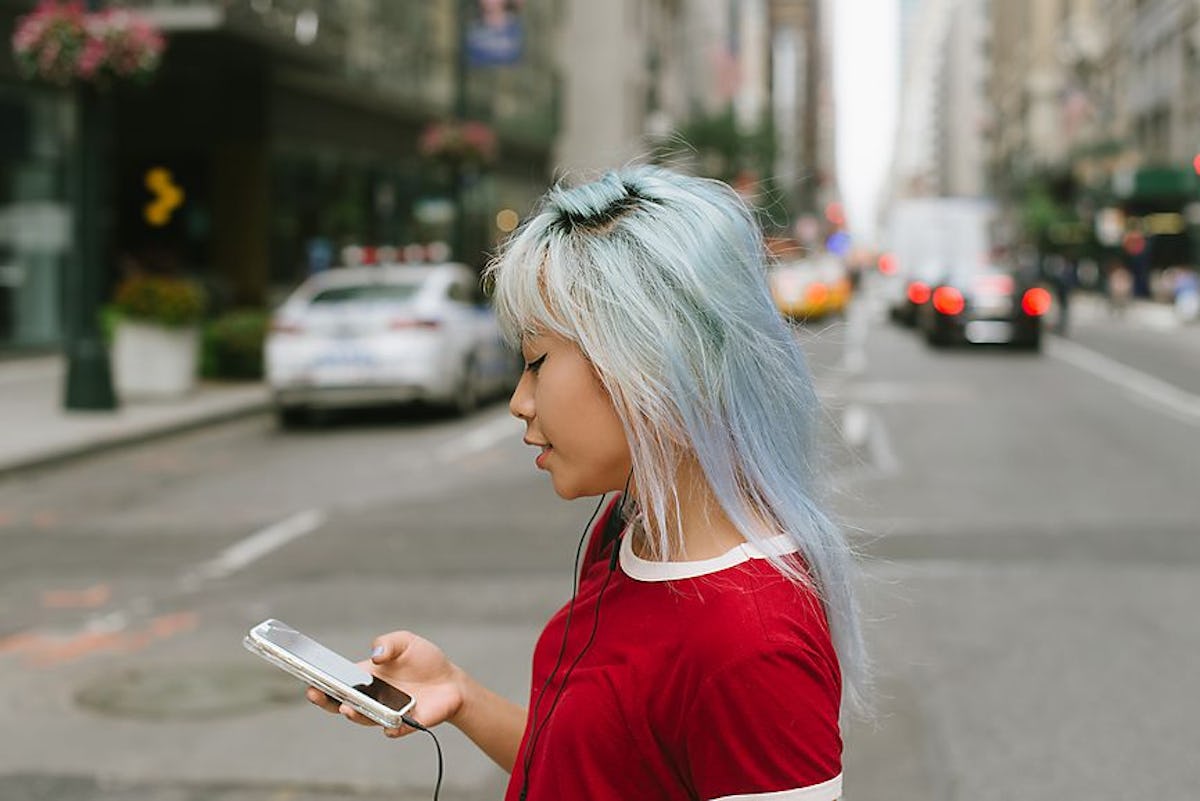 Spotify Is Testing A Feature That Could Make Your Favorite Feature Even Better
Music can be a very important part of your day. Whether you get fired up with a high-powered workout mix or unwind at the end of the day with some relaxing acoustic recordings, music intertwines itself throughout your day. For your listening pleasure, one music streaming service is testing a new feature that will let you have more control over your jams. The new Spotify Discover Weekly dislike button will help to create your best playlists yet.
According to Mashable, Spotify has been testing the feature of the like and dislike button for the Discover Weekly playlist. For the Spotify users who have the new features, they will show up in the bottom-lefthand corner of your screen as a heart for "like" and a circle with a line through it for "dislike." So, not only can you say "no thanks" to the tunes that don't vibe with your musical sensibilities, but you can also give Spotify some big ups for the bangers that find their way into your Discover Weekly playlist.
What happens when you dislike a song on your Discover Weekly playlist? According to MacRumors, when you dislike a song by clicking on the dislike symbol (the circle with a line through it), you'll be asked a question about whether it is the artist or the song with which you're unhappy. Depending on which one you choose, Spotify will ensure that it doesn't show up in your playlist again, because nothing ruins a good playlist like one downer song.
Spotify's Discover Weekly playlist launched in June 2015, according to Quartz. If you have a Spotify account, a new curated playlist awaits you every Monday. The songs are chosen using an algorithm designed to complement your taste in music. The algorithm is basically a complicated mix of your most often selected genres, sub-genres, and playlists. Spotify then uses that algorithm to create their best impression of where your musical taste lies, and then they pair it with their selection of music (with which you're not yet familiar) that they think you would enjoy based on your listening habits. I know, it sounds like a bit of a complicated mess, but I definitely could have used this technology when I was burning all the boy band mix CDs in the '90s...
The Discover Weekly playlist has proven to be very popular among Spotify listeners since the feature streams just under 5 billion tracks a year. It sounds like the algorithm does a pretty good job of predicting which tunes suit each listener, and with the possible addition of a permanent like/dislike button within the feature, it seems like your Discover Weekly playlist can only get better.
If the usage of the like/dislike feature on Spotify sounds familiar, that's because it's already available when you're listening to your Daily Mix playlists curated for you by Spotify. The difference between Daily Mix and Discover Weekly, according to Recode, is that the Daily Mix is filled with songs that Spotify already knows you love — it's not about introducing you to new jams like Discover Weekly.
As Spotify helps you like and dislike your way to the best playlists filled with current hits, it's also giving you the option to escape the realities of 2017 and remember the simpler times when Spotify launched the Time Capsule playlist in September 2017. It's pretty much like having a throwback Thursday available right at your fingertips whenever you want it because this playlist is filled with the likes of a classic Total Request Live episode.
As you go about your busy life, there may not be much time to curate the perfect playlists. Thanks to Spotify and its many options of personalized music, you can enjoy tunes that will fit your every mood.
Check out the entire Gen Why series and other videos on Facebook and the Bustle app across Apple TV, Roku, and Amazon Fire TV.