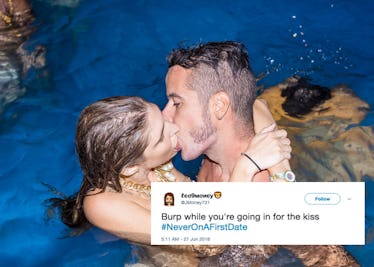 People Are Tweeting #NeverOnAFirstDate & It's The Most Relatable Thing Ever
We talk a lot about what we *should* do on a first date. Be polite. Be honest, but not too honest. Dress up. Order whatever you want (but maybe avoid foods that make you gassy). Offer to pay. Listen attentively to what your date has to say. Be flirty. Go home with them if you want to and, if you don't, don't! But along with all of those rules for what you should do, there are plenty of rules for what you shouldn't do. People are taking to Twitter to share these rules and the #NeverOnAFirstDate tweets are so relatable that I dare you to read along without exclaiming a resounding same.
Got a date sometime soon? Don't worry, these Twitter users have got you covered with helpful reminders to refrain from doing things like farting (been there), burping (been there even more), accidentally blabbing about everything you learned about them from your intense research (yep, you guessed it, been there), spend all night gabbing about your ex (been there and he wasn't even a real ex) and showing up so late that you miss the actual date (TBH, shocked I haven't been there more frequently). And that's just the tip of the iceberg. Read along and drink in the hilarious words of wisdom.