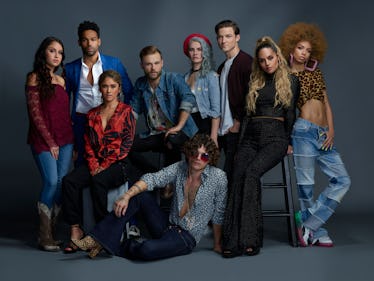 Netflix's 'Westside' Cast Wants You To Know They've "Just Gotten Started" – EXCLUSIVE
Matthias Clamer / Netflix
Look no further than the box office and the primetime TV lineup to know that stories of singers' unlikely paths to success are universally adored. Whether it's watching Lady Gaga and Bradley Cooper in A Star Is Born or keeping up with live rounds on The Voice, we can't resist seeing someone collide with instant fame. With its new unscripted series Westside, Netflix has now flipped around this glamorous angle to share a rockier yet collaborative side of pursuing an art. Netflix's Westside cast reveals the meaning of their show, and while it may have taken them time to reach this kind of platform, they want fans to know that they're making the most of their spotlight.
Debuting on Netflix on Nov. 9, the musical docu-series Westside introduces nine L.A.-based musicians teaming together to produce a musical showcase. While Glee-esque music videos play a key role in exploring the cast's personal stories, the series delves further than your typical McKinley High drama. In addition to exploring each artist's professional struggles and personal roadblocks or milestones, Westside captures what it means to identify as a creative person and join forces with like-minded individuals.
"I think when you're in an environment where you are around other creatives, you can't help but inspire each other, " cast member James Byous tells Elite Daily. "I think the nature of performance is that when you allow your individuality to come through, it's so inspiring to people... It's like, "That person is being themselves so fully [that] I want to be myself.'"
Highlighting the importance of each performer's truth in their showcase, Westside's stars are blunt about the sacrifices musicians make to practice their craft. Byous was working odd jobs before the casting opportunity arose, while co-star Leo Gallo was moonlighting as a wedding singer, which allowed him to work on songwriting during the week. "When [the show] all just came into my world, I had the time and the wherewithal and the artistic freedom to give myself and give myself fully," says Gallo.
The dynamics of the multifaceted group also required star and supervising producer Sean Patrick Murray to embrace singing after working primarily in production. "When it clicked for us that we were in this ensemble and that it wasn't just us, we were able to lean on each other for a lot of the areas, leaning into the discomfort," Murray explains.
While the eight-episode season culminates with the group's anticipated showcase, pulling off such a feat played alongside the performers' everyday routines. Producers left cast members in charge of how much of their personal lives featured onscreen. Early on, Byous decided to act against any impulse he had to not do something in front of cameras. "I think a lot of what's missing from unscripted shows is that people have a secret life off camera, and I wanted to give you everything of myself so that it was unique," he says.
"We shared our stories authentically," Gallo says. "I cried just listening to stories of people I didn't know that I just loved all of a sudden because they were just giving up themselves fully."
For Murray, the choice to invite cameras into his inner world was particularly powerful. Viewers will see footage of his and his husband's wedding day, which Murray was initially hesitant about televising. "We thought about the love and support and how incredible this day was going to be and the reach it was going to have in 190 countries with Netflix," he says. "We realized it could have a much bigger impact of showing love to kids who might not have that support in LGBTQ+ communities."
The success of Netflix's feel-good series Queer Eye inspired the company to develop Westside, and it's evident that just like the Fab Five, the Westside men and their castmates love and appreciate each other, determined to inspire viewers through that mutual admiration. While musical competition shows naturally pit contestants against each other, the stars of Westside were intent on creating a more supportive atmosphere. Gallo, who appeared on Season 6 of The Voice, pointed out that the new Netflix show comes without the heavy editing and forced drama of TV competitions, allowing the stars to be their genuine selves.
"We all have struggles, we're all going through everything," he says. "But we often forget — and I'm saying this from personal experience — that you're special. Everything we have that we've been given naturally and authentically is worth it."
Taking a cue from Queer Eye, the group also want viewers to learn from the show's messages of love, kindness, and inspiration while singing along to its epic music video montages. "Kindness is really where it's at," Byous says. "You have to always keep coming back with love."
As for whether we'll see more of theWestside crew, the men have an apt metaphor for the possibility of a second season. "The music never stops, we'll never stop," Murray says. "Netflix has been so incredible to give us this platform to share our stories and I hope that as long as we have a home at Netflix, we want to share our stories as they continue because we've just gotten started."
Season 1 of Westside begins streaming on Netflix on Friday, Nov. 9.