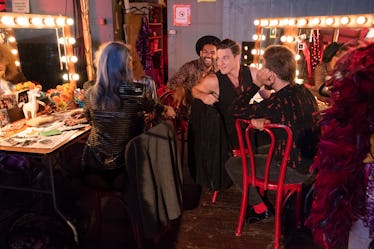 Netflix's 'Westside' Trailer Proves It's Basically A Musical Version Of 'The Hills'
Greg Gayne / Netflix
We can look forward to seeing MTV's reboot of The Hills next year, but in the world of YouTubers and social media influencers scoring TV shows and commercial deals, it's hard to forget that the original Hills crew didn't exactly fit Los Angeles' stereotypical theme of struggling artists. For a setting so dominated by wannabe musicians and actors, The Hills didn't quite capture this drive, but Netflix's Westside trailer proves that those aspiring stars' stories will finally be told.
Premiering on Netflix on Nov. 9, reality series Westside features nine Los Angeles-based musicians in their quest to produce a musical showcase at a nightclub. Each episode explores the group's creative roadblocks and personal struggles while also including music videos for original songs. The streaming service has just released a featurette introducing its cast members, and in between the cast's heartfelt confessions to the camera are moments of connection and drama that remind us of a more ambitious, Hills-like atmosphere.
As the musicians explain in the new video, the concept to create a live show at a nightclub turned into a deep, group-wide exploration of each other's lives. The "expedited process of growth," as one singer calls it, required each cast member to confront their greatest issues in pursuit of their craft. The show's Oct. 11's trailer previously set up the team's five-week mission to produce their nightclub act, also hinting at some cast members' personal milestones such as overcoming substance issue and getting married.
In Netflix's special focus on the cast, star Caitlin Ary describes her fellow performers with familial terms, deeming herself the "hands-on mom" and seeing her contemporaries as the little sister, the next door neighbor, and even the "hands-off mom." Other artists are also blunt about their struggles with themselves and others during filming, so think of Westside as a gentle Glee and Hills mashup. We'll keep our eyes out for any Mr. Schue or Spencer Pratt twins.
While the show's aspect of highlighting rising stars is admirable, one cast member will already be familiar to many viewers. American Idol alum Pia Toscano is introduced in the featurette seven years after her elimination from the singing competition's tenth season was dubbed one of the show's most shocking exits. For the new series, she joins Ary, Westside supervising producer Sean Patrick Murray, James Byous, Arika Gluck, Austin Kolbe, Leo Gallo, Alexandra Krekorian, and Taz Zavala. ICYMI, this is a whole lot of talent on one show.
This gang isn't hanging out at a Les Deux equivalent during their downtime, but anyone wanting more than just musical performances from the unscripted series won't be disappointed. The teaser footage hints that Byous is a slightly toxic presence among the group, while Kolbe feels the pressure of carrying the team because he has the strongest songwriting skills. Rest assured, it looks like whatever drama arises is quickly solved, as an official playlist of the cast's songs is already on YouTube. So do the group's Glee-style mashups start in Season 2?
Westside premieres on Netflix on Friday, Nov. 9.