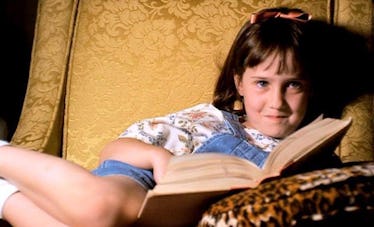 Netflix's New Animated Series Will Bring All Of Your Favorite Roald Dahl Stories To Life
TriStar Pictures
Roald Dahl's imaginative novels have given children a magical escape like no other, and now Netflix is bringing them to life with a new animated event series. The streaming service just announced that it has obtained the rights to Dahl's most beloved collection of children's titles, and it will be adapting them into animated series. So get ready for Netflix's Roald Dahl animated series to transport you back to your childhood to relive all the magic.
Not only will the as-of-yet-untitled Netflix series adapt Roald Dahl classics like Charlie and the Chocolate Factory, Matilda, and The BFG into animated shows, but it will also expand on the original stories and characters in completely new ways. The press release promises that the new adaptations will expand beyond Dahl's original stories to make an even bigger story universe: "Netflix intends to remain faithful to the quintessential spirit and tone of Dahl while also building out an imaginative story universe that expands far beyond the pages of the books themselves."
Netflix also released a short, animated teaser to announce the upcoming Roald Dahl series, which features a Wonka bar unwrapping itself to reveal a golden ticket with Netflix's logo on it and the names of some of the stories being adapted. Check it out below:
This will not be the first time that a number of Roald Dahl's children's stories have been adapted for the screen. Steven Spielberg adapted The BFG into a big-screen, CGI spectacular in 2016, and the 1996 live-action movie adaptation of Matilda became just as beloved as the book it was based on. And of course, Charlie and the Chocolate Factory has already been adapted into two major motion pictures, with Gene Wilder starring in 1971 and Johnny Depp in a 2005 adaptation. Another Charlie and the Chocolate Factory movie is reportedly in the works right now, as well, with Donald Glover rumored to be in talks to play Willy Wonka in a prequel film.
But this Netflix series will be much different from those movies, because it will be animated and also push the boundaries of Roald Dahl's stories. It sounds as though this series may create connections between different stories and characters from Roald Dahl's stories, which would be a totally new interpretation on them. It is also unclear whether this will be one series that jumps between different stories, or a few different shows each dedicated to one of Dahl's stories.
Netflix revealed that the entire slate of titles that the Roald Dahl Story Company okayed for its use consist of the following 16 books: Charlie and the Chocolate Factory, Matilda, The BFG, The Twits, Charlie and the Great Glass Elevator, George's Marvellous Medicine, Boy – Tales of Childhood, Going Solo, The Enormous Crocodile, The Giraffe and the Pelly and Me, Henry Sugar, Billy and the Minpins, The Magic Finger, Esio Trot, Dirty Beasts, and Rhyme Stew.
There is no word yet on when we can expect this Roald Dahl animated series to premiere, but Netflix said that production will begin in 2019.