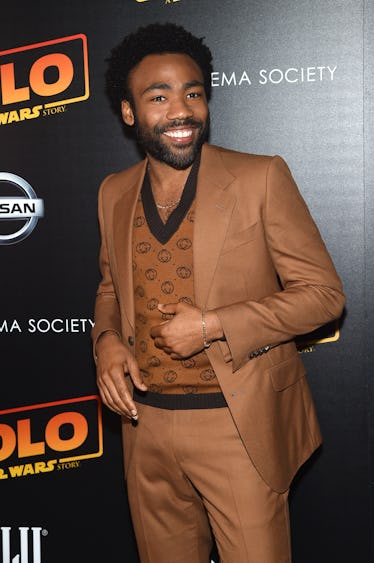 Donald Glover Might Play Willy Wonka In The 'Willy Wonka & The Chocolate Factory' Reboot
Jamie McCarthy/Getty Images Entertainment/Getty Images
"Come with me and you'll be in a world of pure imagination." If that lyric suddenly has you craving chocolate bars and dreaming about everlasting gobstoppers then you're probably a fan of Willy Wonka. Luckily for you, an updated movie adaptation of the classic Roald Dahl story is in the works and the star-studded roster of actors reportedly being eyed for the lead is sweeter than a ripe snozzberry. Is Donald Glover playing Willy Wonka in the reboot? Apparently the multi-talented performer is on the shortlist for the iconic role.
According to Collider, Glover is one of three esteemed actors being considered to play the larger-than-live candy magnate. Ryan Gosling is another option, as is Ezra Miller. Warner Bros. is behind the movie with Paddington's Paul King is set to direct and writer Simon Rich (Man Seeking Woman, SNL) will pen the script. If you're hoping to reunite with familiar Willy Wonka faces like Augustus Gloop and Veruca Salt, you might not get the chance. Collider also reports the project could act as a prequel to the Choclate Factory narrative, going into Willy Wonka's origin story.
The beloved Wonka tale is over 50 years at this point — Roald Dahl's classic Charlie and the Chocolate Factory hit shelves back in 1964 — so diving into what truly made Wonka so Wonka-ish might be a welcome reboot approach.
Willy Wonka isn't exactly new cinematic territory. Gene Wilder famously took on the wacky factory owner in the 1971 musical film version of the book. While the movie wasn't a box office hit, it's earned cult classic status and a new following spanning generations over the years. Wilder's memorable oddball take on Wonka is somewhat sinister and unnverving — if that tunnel boat scene doesn't huant your nightmares to this day you are stronger than I am.
Tim Burton helmed his own reboot in 2005 when he cast (who else?) Johnny Depp to portray the eccentric Willy Wonka. It's been reported that actors such as Robin Williams, Adam Sandler, and Jim Carrey were other potential candidates.
Since the Wonka character is so ingrained in popular culture, it will be interesting to see how Glover, Gosling, or Miller will put their unique spin on the persona, especially if they are depicting his early days.
Donald Glover is an undeniable entertainer and could probably tackle the musical elements of the film, should Warner Bros. choose to include songs. And to say the Atlanta creator is having an incredible year is putting it mildly — he's currently starring in Solo: A Star Wars Story, he voiced Simba in the upcoming remake of The Lion King, and he's about to go on tour as Childish Gambino. Last September he made history at the Emmys when he won Outstanding Director for a Comedy Series, becoming the first black director to ever win in the category. He additionally picked up a statue for Outstanding Lead Actor in a Comedy Series. Did we mention Childish Gambino was also nominated for five Grammys just a few months later, and won one for Best Traditional R&B Performance?
"But right now, I'm having a moment of creative elasticity. It's easier for me to do it, but I know eventually the rubber band will come back together. So I'm just doing what I can right now. I'm, you know, the word isn't really 'fortunate' because it's not like luck or anything, it's just the wave of things—I'm cresting," Glover told Deadline in 2017 of this point in his impressive career.
Donald is reportedly "actively chasing" the Willy Wonka project, so perhaps he'll have the opportunity to continue to ride that creative wave.