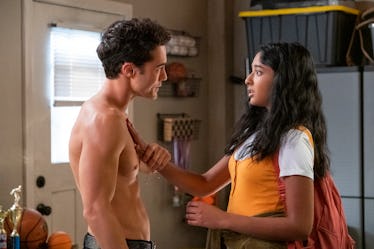 Netflix Renewed 'Never Have I Ever' For Season 2, So Get Excited For More Devi
Netflix
Get ready to freak out, because Never Have I Ever Season 2 is really happening. Since Season 1 was majorly successful, fans were eager to find out whether their faves would come back for more coming-of-age hilarity. And now they know, since the teen series from comedic genius Mindy Kaling was officially renewed by Netflix.
In a tweet on July 1, Kaling expressed her gratitude to the fans for helping the show live on. The alumna of The Office is co-creator of the Netflix series with Lang Fisher, and also serves as a writer, executive producer, and showrunner. It makes sense the show would be near and dear to her heart, as it follows a modern-day first-generation Indian American teenage girl based loosely on Kaling's own life experiences.
If Kaling was pumped, the rest of the cast was ecstatic, and the way they learned (or at least shared) the good news might just be the purest thing ever. In a hilarious Zoom call, Maitreyi Ramakrishnan, who plays Devi, assembled the cast to announce the renewal. Instead of the focus being on the next season, however, the cast was more interested in Ramakrishnan's new quarantine look. After showing up on screen with bangs, things quickly got derailed...
Though the only thing revealed so far is that the show is definitely coming back and Ramakrishnan definitely looks phenomenal with bangs, it's enough to get Never Have I Ever Fans majorly hyped.
As for what will happen in Season 2, the finale left things pretty open-ended. Will Devi focus of self-love and growth? Will viewers see more about her father and their relationship before he died? Are Devi and Paxton endgame material?
Viewers are still waiting for a release date, but with television production just starting to get underway again in light of the coronavirus pandemic, fans might have to wait a bit to see what's new for this high school crew. In the meantime, blasting the soundtrack and thinking about how hot Devi's dad is should keep you pretty busy.
Watch Never Have I Ever Season 1 on Netflix now.