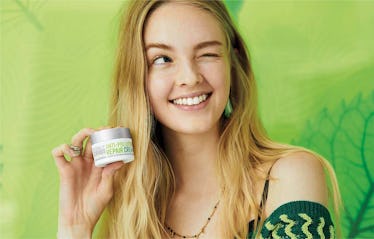 This Clean, Non-Toxic Skincare Brand Is About To Take Over Sephora
Naturally Serious
Sephora has been kicking a** and taking names when it comes to providing clean and natural beauty products as of late, and come August 7, they'll have yet another non-toxic offering from you to choose from. Naturally Serious skincare is slated to launch exclusively within the mega retailer in just one week and promises clean and effective products at affordable prices. No, they won't cost as little as your favorite drugstore buys, but compared to other brands with similar ethos', Naturally Serious is a great deal. What's more, you can already pre-order their products on Sephora.com before the official launch. Power to the clean beauty revolution!
As put on Naturally Serious' website, their products are cleanly made, ethically developed, and clinically tested. The company is anti-pollution; they formulate their products without B.A.D. (banned, ambiguous and debatable) ingredients like parabens, phthalates, preservatives, PEG, formaldehyde, petrolatum, and more; and all of their cartons are made with wind power in carbon neutral facilities. In short, Naturally Serious makes products that are clean for your body in ways that are clean for the earth. Pretty rad, right?
As described on Sephora's website, the brand marries the science of a technical skincare brand with the eco-friendly attitude of a natural brand, all for your complexion's benefit.
Cleanly made, ethically developed, and clinically tested, Naturally Serious takes your skin seriously. Through sun, sweat and environmental stress, Naturally Serious works overtime to help detox your skin from free radicals, dead cells, and pollution. Utilizing the best of nature and science, their products even help diminish the look of past skin damage and reduce the look of fine lines, wrinkles, and dark spots caused by photoaging. Let's get serious. Your skin deserves this.
I'm sold! Below is a smattering of products you can currently pre-order on Sephora's website — check them all out here and load up your cart pronto.
These gentle-yet-effective peel pads contain exfoliating pomegranate enzyme and skin-smoothing oleic, palmitic, and linoleic fatty acids. Swipe one all over your face, don't rinse it off, and watch as your skin turns into its most hydrated, smoothed, and glowy self yet.
If your lips are in need of some major therapy, this lip serum is an excellent place to start. It's infused with hydrating hyaluronic acid, squalane, jojoba seed oil, and shea butter and utilizes a patented anti-pollution blend of six antioxidants (pomegranate, goji berry, grape seed, green tea, red tea, and white tea) to help combat damage caused by UV rays, pollution, free radical damage, and other environmental aggressors.
This gentle cream cleanser is formulated with exfoliating pomegranate enzyme and brightening licorice root to help cut through makeup and leave skin smoother and brighter. Coconut oil helps to remove makeup, excess oil, and impurities, while probiotics work to restore skin's natural balance. This product also includes Naturally Serious' signature blend of six antioxidants, meaning it'll also help against sun damage and free radicals.
I LOVE pampering myself with a good at-home mask and this one will definitely be added to my beauty cabinet. It claims to calm, hydrate, and renew skin for a healthy, poreless look (win) and even contains colloidal oatmeal to soothe skin. Kaolin clay helps to dissolve excess oil and impurities and it also uses the anti-pollution blend of six antioxidants. Basically, it's a wunderkind of a mask.