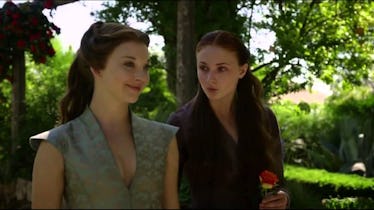 A Favorite 'GOT' Character Will Narrate The 'Harry Potter: A History Of Magic' Audiobook
HBO
Besides arguably sharing the title of the most popular fantasy series in the 21st century, the Harry Potter and Game of Thrones franchises have a lot more in common than what first meets the eye. Several actors from Harry Potter movies have played secondary roles in the HBO series Game of Thrones, but a new kind of link has now formed between the two worlds. Former Game of Thrones cast member Natalie Dormer is narrating the Harry Potter: A History of Magic audiobook, and she's bound to liven up the subject that was a notoriously dull class for Harry and his friends at Hogwarts.
Released as a part of Audible's Pottermore universe, A History of Magic will be available on Oct. 4, 2018. Audible's website describes the project as "hidden stories behind the global history of magic and how some of its ancient objects have influenced J.K. Rowling's Harry Potter stories." While the story definitely includes some topics that were relevant in the book's timeline, such as the Salem witch trials, it sounds like A History of Magic will veer away from any fictional topics the Golden Trio may have learned about and focus more on real-life elements hinting at the existence of magic. Sorry, Hogwarts students, but it looks like you still have to listen to Professor Binns drone on about goblin wars for now.
In a statement about her involvement, Dormer said:
I've always adored the Harry Potter books, but it wasn't until I started speaking with the British Library's curators — hearing about the various myths, legends and cultures that have helped shape the wizarding world — that I really began to appreciate the richness and depth of J. K. Rowling's writing. There are so many wonderful details to explore and A History of Magic unearths some remarkable gems of information that are sure to have listeners awestruck.
Of course, you can't officially work on a Potter project until you're Sorted into a Hogwarts House and know where you stand in the Wizarding world. In an exclusive video for Entertainment Tonight, Dormer, who starred as Margaery Tyrell on five seasons of Game of Thrones, took the Pottermore Sorting quiz and learned she was a Hufflepuff, the eternal symbol of loyalty and fairness. But someone who has played such tough female roles in Games of Thrones and The Hunger Games definitely screams of Gryffindor potential, right?
Dormer even seems to have thought she was a true lioness in real life, telling ET about her Hufflepuff result, "That is not what I was expecting." Well, duh. What would the Tyrells think of one of their own not making it into Gryffindor or even Slytherin?
The audiobook's release coincides with the New York Historical Society's new exhibition and audio tour, "Harry Potter: A History of Magic," which Dormer also narrates. The exhibit opens on Oct. 5, 2018, and runs until Jan. 27, 2019, consisting of "rare books, manuscripts, and magical objects" from the British Library and the historical society. Rowling and Scholastic, her American publisher, will also provide original drafts and drawings from the series that focus on the history of magic.
The exhibit will also celebrate the 20th anniversary of Harry Potter and the Sorcerer's Stone's U.S. publication by displaying the artwork of Brian Selznick, whose new Harry Potter cover illustrations debuted earlier this year. The work of the American editions' original illustrator, Mary GrandPré, will also be on display at the New York Historical Society.
If you can't make it to the exhibit, Audible's definitely got your back with its recording of Dormer reading A History of Magic. After all, knowing that she's a Hufflepuff puts any fears about her inner Margaery sneaking through to rest. Welcome to the Potterhead family!