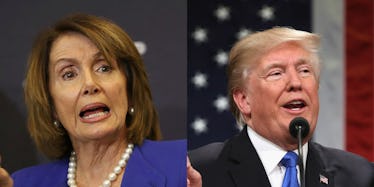 No One Can Get Over This Reaction To Trump's State Of The Union
Joe Raedle/Getty Images // Win McNamee/Getty Images
President Donald Trump addressed the nation in his first State of the Union address on Tuesday, Jan. 30, but it appears that many people were also keeping an eye on House Minority Leader Nancy Pelosi. Nancy Pelosi's reaction to Trump's State of the Union address appeared to show that she was less than impressed. As Trump addressed a joint session of Congress, the cameras caught Pelosi listening to the president with a less-than-thrilled expression.
Many a screenshot was grabbed as Pelosi looked visibly irritated while listening to President Trump speak during his first State of the Union address. As President Trump referred to the State of the Union as strong and went through a list of lowered unemployment percentages for different groups of Americans, Democratic Representative Nancy Pelosi didn't seem to have the same enthusiasm as the president. One Twitter user, Shauna (@goldengatelond), tweeted a photo of Pelosi's face and related to Pelosi as she captioned it, "Nancy Pelosi is all of us."
Comics on Twitter were paying attention. A parody Twitter account of Stephen Miller, a senior policy adviser for President Trump, posted an image of Pelosi to his Twitter page on Tuesday night, calling it the "PHOTO OF THE NIGHT!" It's not likely that real-life Miller was relating to Pelosi, but the parody account had some fun with it.
Pelosi's expression seemed to capture the attention of many viewers tuning in for the State of the Union address. There was no shortage of Twitter photos accompanied by different possibilities as to why she looked so unimpressed.
"Nancy Pelosi is all of us."
"PHOTO OF THE NIGHT!"
"Nancy Pelosi glaring at President Donald Trump's speech..."
One user compared her expression to that of someone who ate a lemon wedge. TBH, I think she'd prefer the lemon wedge.
Pelosi wasn't the only Democrat (or person) in attendance who seemed to be bothered by President Trump at the podium.
"Let's check in on the Democrats."
It's no secret that Democrats and Republicans have been having bitter battles over issues such as the Deferred Action for Childhood Arrivals (DACA) and the Children's Health Insurance Program (CHIP), and Nancy Pelosi made it a point to tell her fellow Democrats to essentially keep themselves in check while they listened to President Trump speak at the State of the Union address.
According to Politico, Pelosi warned her caucus ahead of Tuesday night that they should behave themselves during the State of the Union no matter how much they disagree with the president. Her verbatim instructions included telling her colleagues to "let the attention be on his slobbering self." She further warned that if individuals could not control themselves, then they should be careful not to enter the room.
As she described her instruction to remain calm, Pelosi let it be known that she is clearly frustrated with the fact that the bar for success seems to be quite low for President Trump when it comes to public speaking. She said, "If his nose isn't running and he isn't burping, he did a great speech."
It's possible that Pelosi gave these instructions with a 2009 incident in mind — when Republican Representative Joe Wilson yelled "You lie!" during President Barack Obama's Congressional address following his inauguration.
Of course, it's difficult to say exactly why Pelosi was expressing herself the way she was, but she also shared her feelings on issues like immigration by bringing Melody Klingenfuss, a DACA recipient, as her invited guest for the night, according to CNN.
With DACA seemingly being such a bargaining chip for Republicans — and part of the reason a spending bill ran out that led to a government shutdown — Pelosi is making her feelings about policy known in more ways than a disapproving expression.