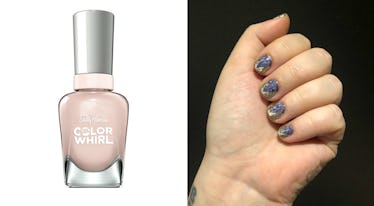 Sally Hansen's New Color Whirl Polish Will Turn Nail Art Novices Into Nail Artists — EXCLUSIVE
Sally Hansen // Theresa Massony
I'm just gonna dive in right off the bat and say that I royally suck at doing my own nails. No matter how hard I try or how perfect of an end result I get to, I always do something to screw it all up. It's a talent really. But believe it or not my review of Sally Hansen's Miracle Gel Color Whirl polish proves that there could actually be a way for my nails not to look janky AF — and yes, for all of us manicure inept, a way to even give ourselves some legit nail art.
Yep, you heard me correctly: nail art. Art on a nail. Something other than just a plain color. Even more, Miracle Gel Color Whirl allows you to accomplish this with a single swipe of polish. Right?! I don't believe me, either, but I swear I'm not making it up. I was able to see this polish in action with my own eyes. But more on that later. First, let's break down what exactly Sally Hansen's new Color Whirl polishes are all about.
By now, I'm sure you've heard of the two-step Sally Hansen Miracle Gel polishes, designed as an easy way to give you a gel manicure at home, with the same staying power as one you'd get at the salon — no UV light necessary. The process is as easy as painting on two coats of any Miracle Gel polish (good luck choosing from the whopping 75 SHADES), allowing your nails to dry for five minutes, and then applying a single coat of the Miracle Gel Top Coat. Boom. The quickest gel mani of your life.
Now, however, Sally Hansen is one step closer to making us all amateur manicurists with their two brand-new Color Whirl shades, "Steam Punk" and "Marble-ous."
The way Color Whirl works is quite simple, only adding one more step to your Miracle Gel routine — and thank GOD, because my tired brain isn't getting any quicker at all.
After applying two coats of Miracle Gel ($10, Ulta) and waiting for them to dry, you can paint one very thin layer of either Marble-ous, a pale pink shade, or Steam Punk, a true black, over the color. As you'll see before your eyes (and in the photos above), the Color Whirl formula will pool in certain areas and pull away from others. The end result essentially leaves you with a stunning marbled effect, with your OG Miracle Gel color peeking through.
Just finish off with the Miracle Gel Top Coat ($10, Ulta) like you normally would, and there you have it! You just became an actual nail artist like you'd always hoped. Kudos to you, my friend. Those "OMG, I love your nails!!!" comments will start rolling in, and you'll probably need a neck brace from all the praise getting to your head once you tell people you did it yourself.
Lucky for me, I got to see these new polishes in action at the hands of a professional, and yes, it still looked easy enough for me to do on my own. Nail artist extraordinaire Naomi Yasuda (who boasts a cool 157K followers on Insta, NBD) gave me the sickest manicure I've ever had, showcasing how easily Color Whirl can transform a regular ol' manicure into something special.
FEAST THINE EYES ON THE FIERCEST NAILS YOU EVER DID SEE:
Just as Sally Hansen suggests, Yasuda applied two coats of my chosen Miracle Gel color (a metallic purple, because I like to pretend to be royalty), and then applied an incredibly thin layer of the Marble-ous Color Whirl and a coat of the Miracle Gel Top Coat. Immediately, Marble-ous began pooling together in certain areas to create the marbled effect, and my whole nail looked like a stunning Jackson Pollock painting, basically.
Because I am truly #blessed, Yasuda added some metallic gold accents, also from the Miracle Gel collection, and suddenly, my nails looked like they cost a ton of money.
Please peep this Kira Kira sparkle, and try to tell me you don't have at least a tiny bit of nail envy:
Even better than how this overcoat worked was the quality of the whole shebang. Whereas any regular mani chips on my nails just by me looking at it weirdly, I've had this at-home gel mani on for a few days now, and the design is spectacularly shiny and intact. JANKY NAILS, WHO???
Retailing for $10 (the same as the Miracle Gel polishes and the Top Coat), the Color Whirl polishes are available now, so you'll probably see them popping up at your local drugstore pretty soon. Keep your eyes on sallyhansen.com, where more info about the polishes will show up soon, and get ready to become the nail artist you never thought you could be.