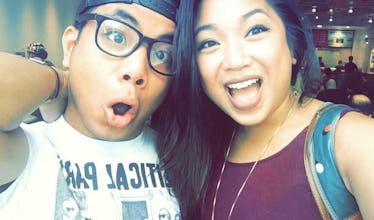 Why My Little Brother Is The Best Friend I Could Ever Ask For
When people ask me who my best friend is, my little brother, Jon, is always the first person who comes to mind. There are a million reasons why my little brother is my best friend, and I'm so lucky to have him in my life. Because we've been joined at the hip since day one, we've built a bond that even I don't understand sometimes.
Jon and I were in a theater class together in high school. (I was a junior, and he was a freshman.) During our first week, we did a ton of ice breaker activities to get to know everyone in the class. For one ice breaker, we played a "getting to know you" game where everyone was asked the same question, and we all walked around the room trying to remember as many answers as we could. The first question was, "What is the name of your best friend?" Not sure if it's because he was in the room, I immediately thought, "Jon." As I walked around the room and collected answers from my classmates, one of my friends told me quietly, "You know Jon has been saying your name, too?"
Jon and I were practically raised as twins. We're only a year and four months apart in age, and we did pretty much everything together. If he joined the YMCA basketball team, so did I (Yes, I was on the boys' team.), and if I joined the church choir, he did, too. There was one point where my parents even dressed us up in matching clothes and matching haircuts. (No joke.)
Even when he's being annoying, I know that he'll always be there for me. Here's why my little brother is my best friend — and I'm not embarrassed about it one bit.