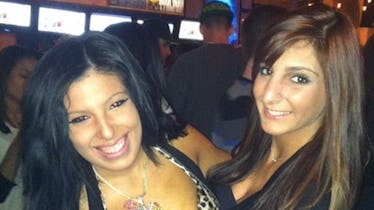 I Bought My First Vibrator With My Best Friend & What Happened Next Was Hilarious
Dayna Troisi
I was basically born masturbating. My mom had to call the doctor to ask if I was normal because I was touching myself in the crib. So, it's kind of surprising that my first vibrator experience didn't happen until I was 18.
I know that a lot of women explore their sexual preferences through the use of vibrators, but I never thought I needed one. I liked my hand just fine. And this is embarrassing to admit, but I wholeheartedly believed the urban legend that vibrators would desensitize my clit. I remember reading that in some weird AOL sex chat room I used to spend an unhealthy amount of my youth in, and it always stuck with me. Desensitizing my clit sounded like my worst nightmare.
Then, my freshman year of college, I met Gianna. And Gianna insisted I try a vibrator.
Gianna and I were both tanning bed-addicted Italians who got our acrylics filled together every other Tuesday and went home every Sunday for sauce. We dissected every detail of our sex lives together over bad college dining hall food as we drank vodka from Gatorade bottles. I didn't even know how much fun was possible until I met Gianna. Whether we were speeding around in her Audi, shopping for 26-inch hair extensions, or taking free shots at the local bar, I felt unstoppable. We were living our best ratchet lives.
Then we both ruined our freshman year by falling in love with different people and winding up in short-lived relationships. After our breakups, we reunited over a handle of Patron.
"I need to have sex again," I lamented, squeezing a lime into my drink.
"Me too, but I'm too... I'm too sad. How annoyingggguh." She pounded a shot without a chaser. Every Long Island girl going through a crisis finishes her sentences with "uh."
I was too sad to go out and have a random hookup, too. So, Gianna and I had sex with each other. Just kidding, you perv. We were roommates and friends. We didn't have sex with each other! We went to the mall.
We bought a bunch of slinky tops, picked up soft pretzels and Cokes at the food court, and stomped our UGGs to the most quintessential suburban mall store ever: Spencer's. We rummaged around their displays of trucker hats and Snooki-themed shot glasses. But there was one part of the store that neither of us had ever dared to enter: the sex section.
"Do you have a vibrator?" Gianna asked me, smacking her gum and gesturing to the display of neon pink and purple silicone.
My first impulse was to be like, "Um, duh," to seem cool, but I hesitated. We were closer than that. I could be honest with her.
"No, I've actually never tried one," I confessed.
She looked more shocked than she did that time we had to pay a cover fee at the bar on St. Patrick's Day. Then her face softened into a more vulnerable expression.
"Neither have I," she said, "I'm scared it'll desensitize my clit."
"Me too!" I yelled a little too loudly.
"They won't, I literally swear on my life," a heavily pierced and tattooed clerk chimed in.
Gianna gripped my wrist and led me closer to the array of battery-operated devices.
"We're getting vibrators," she said. "Now."
Much to our delight, the clerk told us that bullet vibrators were buy one, get one free. With that, we picked out two, Gianna swiped her dad's credit card, and we skipped giddily out into the parking lot. We sped back to our dorm while blasting Avicii's "Levels" on repeat.
"Let's go in our rooms and try them out right now!" Gianna suggested.
As someone that has always been down for anything, I was surprised by how apprehensive I felt. Wasn't it weird to test out our new vibrators at the same time? But I was so curious about what the bullet felt like, I told myself to get over it. We scurried into our bedrooms and vowed to return to the common room later to debrief.
I settled into my twin bed and selected a video on Pornhub, which didn't take long because I'm not picky. I pressed the on button... only for nothing to happen. F*cking batteries. I ran into the common room in only my underwear and burglarized the remote for batteries. Time for take two.
Thanks to the Spencer's employee who debunked the myth about vibrators ruining your clit's sensitivity, I turned up the vibration to a high setting. My nipples got hard and I couldn't help but quietly laugh. It felt amazing. Then I turned up the vibration even higher. Then I came. The entire experience took about 30 seconds, compared to the minute I usually needed with my fingers (I can come fast when I want to). Then I did it again. And again. And again. Gianna knocked on my wall. I couldn't stop. When Gianna pinged me repeatedly on BBM, I knew it was time to step away from the vibrator. I tossed on a big t-shirt and emerged from my room.
"I… am… speechless," Gianna said slowly.
"B*tch, SAME," I replied.
After that fateful day, we spent a lot of time "taking naps."
Thanks to my job as a sex and dating writer, sex toy companies have sent me an incredible amount of vibrators since then — Rabbits, wands, bullets, you name it. I haven't met a vibrator I didn't like. I personally don't like to integrate them into my sex with partners, but for solo sex, I'm all about them.
I feel like I owe so much to Gianna for introducing me to the wonderful world of vibrators. It's so important to have friends with whom you can talk freely about sex. Now, if I get the sense that one of my friends is somehow unfulfilled in their sex lives, I give them a vibrator and all their reactions are the same: shook. If you haven't tried one, girl, I will personally send you one, because you deserve to feel every type of pleasure there is. Pleasure from your fingers. Pleasure from sex. And pleasure from a vibrating piece of silicone. There are so many different kinds out there to try, you can have a lifelong love affair playing with different textures, speeds, pulsations, sizes, colors, and more.
I'm glad my first vibrator experience was a memorable one. And luckily, my clit hasn't been desensitized… yet.