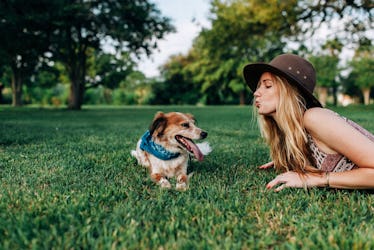 Best Internship Ever? This Restaurant Will Pay You To Play With Puppies
Finding the right internship in college can be so overwhelming. If you're on the hunt, look no further than this amazing opportunity from one Texas-based restaurant. There's a catch, though. You must love dogs. Why? Well, because MUTTS Canine Cantina will pay you to play with puppies. I'm talking $100 an hour to roll around with dogs all day long. Seriously. The opportunity is a doggone good one for anyone looking to make some serious cash. Oh, and hanging out with pups all day sure doesn't hurt either. Here's how you can become the very first "Puptern" at MUTTS Canine Cantina.
On Monday, Oct. 29, MUTTS Canine Cantina announced the Fort Worth, Texas restaurant is looking for a qualified "Puptern" to play with dogs all day long. It sounds like a dream come true, right? Right. The internship just started accepting applicants, so you can be one of the first to apply to this amazing opportunity.
To apply, head on over to the MUTTS Canine Cantina Instagram account (@muttscantina). You can submit to the internship directly on Instagram by posting a photo or taking a video of your puppy petting skills. Bring someone with you to snap a few pics or video.
Personally, I'd opt to shoot a video to give the full effect of your capabilities, but either will suffice for application purposes. Just remember to make sure your personal Instagram account is public when you post your submission photo or video, otherwise, MUTTS Canine Cantina won't be able to see your post. There are a couple more things to take note of. Your Insta post should include the hashtag #MUTTSpuptern. Oh, don't forget to tag @mattscantina so they can review your post.
According to the MUTTS Canine Cantina Instagram account, the internship will pay $100 an hour. That's a pretty great chunk of change to play with dogs. Honestly, I'd play with dogs for free so the money is an added bonus. Your responsibilities include walking around the small and large dog parks located at the cantina, as well as playing with customers' dogs.
The hours of the job are TBD but will be somewhere in the ballpark of four hours a week for six to eight weeks, according to Thrillist. The gig also comes with food and drinks provided by MUTTS Canine Cantina. So, you can play with dogs, eat free food, and, on top of it all, get paid $100 an hour. It seems too good to be true, but it's not.
"We are looking forward to hiring our first ever Puptern," Kyle Noonan, co-founder of MUTTS, said in a statement, as reported by Thrillist. "There aren't many opportunities out there that pay interns to strictly play with dogs all day long. Typically, there may be other responsibilities that come with the job, but not this one. I'd be lying if I said this is going to be one 'ruff' internship."
Basically, all you need to do is go out and find an adorable pup (maybe your own) and practice your dog-petting skills. Make sure you apply by Monday, Nov. 12 for a chance at this dream of an internship. Perhaps you are one of those people who gives a good belly scratch or ear rub to dogs. Maybe you are so intuitive that you know what each dog wants before you even start petting. Whatever your puppy petting talents are, MUTTS Canine Cantina wants to see them.