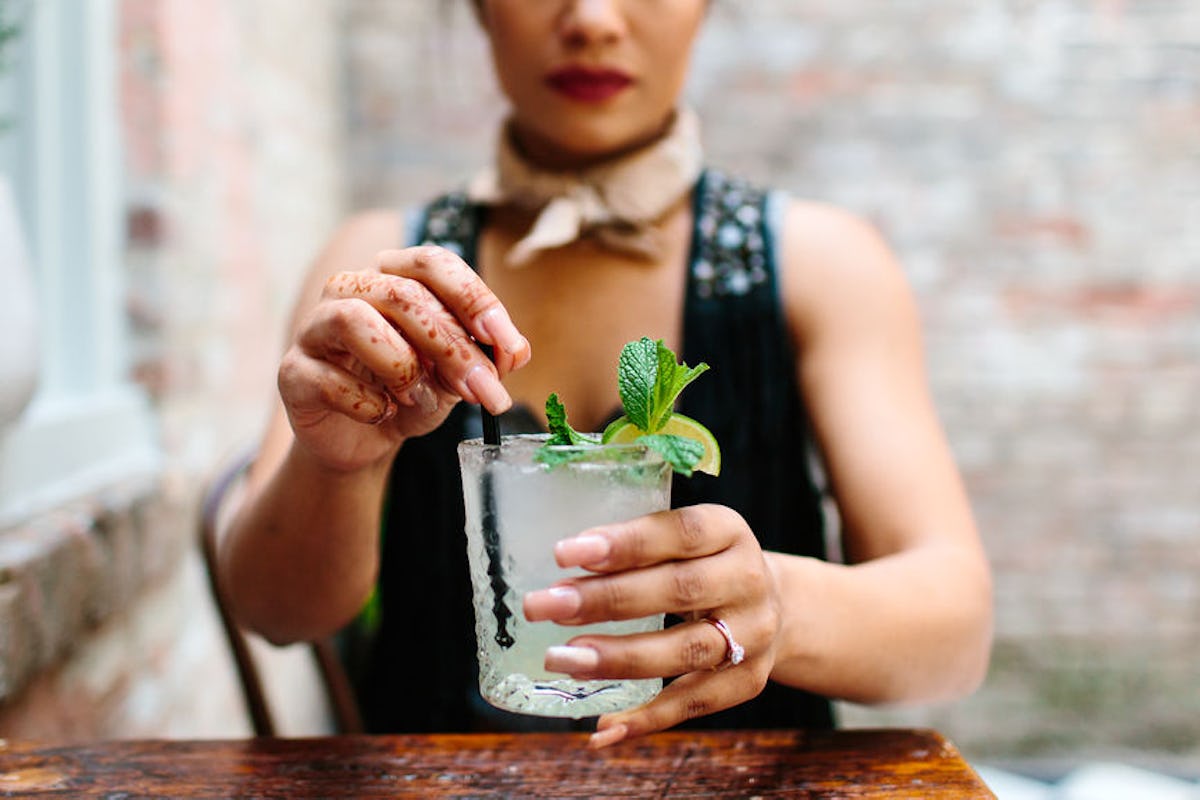 Quit Your Job, Because This Company Will Pay You To Travel The World & Drink Gin
Have you ever wanted to drop everything and explore the world? If so, I know the feeling. Wanderlust is a powerful thing, but plane tickets and travel expenses will definitely put a toll on your wallet. That's why having a job is necessary if you want to save money and start your journey. However, one London-based company is currently hiring someone to travel the world and drink gin — so you won't even have to save up for a trip. I'm not kidding: Mr Fogg's Around The World In 80 Days job is open for applicants, and it'll send you on an 80-day journey around the globe.
Mr Fogg's is a bar group that currently has four locations across London, which include Mr Fogg's House of Botanicals, Mr Fogg's Tavern, Mr Fogg's Gin Parlour, and Mr Fogg's Residence. (I've actually been to Mr Fogg's Residence, and it was by far the coolest cocktail spot I've seen in London.) The company is opening another location on Sept. 14 called Mr Fogg's Society of Exploration, which is inspired by Around the World in Eighty Days, a novel by Jules Verne. In the novel, one of the characters — Phileas Fogg — sets off on a mission to travel the world in 80 days. Therefore, the company wants to send one lucky person and their friend around the world in 80 days to help create a new cocktail for the location.
In other words, the chosen candidate will travel the globe while sipping on gin and collecting ingredients for a drink that'll be served at Mr Fogg's new bar. Cheers to that.
I know, it sounds too good to be true — but I promise this is a real position. To make it possible, Mr Fogg's partnered with Bombay Sapphire, a gin company that you can thank for this once-in-a-lifetime opportunity. Thanks to the collaboration, the lucky candidate who scores the position will travel to locations like Bombay, Hong Kong, Paris, New York, San Francisco, Japan, and more. During their journey, they'll be able to test gins and collect ingredients needed for a new cocktail at Mr Fogg's upcoming Society of Exploration bar. After all, Phileas Fogg requires "a variety of very important items located around the world, to be collected and hand-delivered" to him in London. It sounds like an extremely important job, if you ask me.
In order to apply for the position, you must fill out a submission form on Mr Fogg's website. The page also lists job requirements for the applicant to take into consideration. Based off the given criteria, the applicant must be "formidable, brave and a lover of the unknown, experienced in the art of adventure, and well-versed in the medium of social media." Plus, the chosen person needs to know how to take a good picture, because they'll be documenting their journey around the world. Having read Around the World in Eighty Days will also help your chances. If that sounds like you, make sure you apply by Aug. 27.
Oh, did I mention that the chosen applicant will get to bring a friend along for the trip? Guys, this is a dream job. Start the application ASAP and pack your bags.