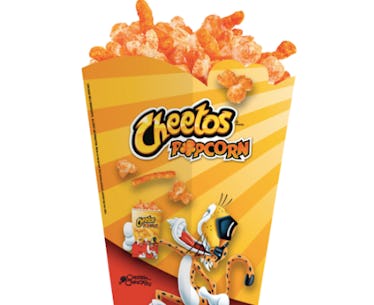 This Movie Theater Chain Is Selling Cheetos Popcorn, So Buy A Movie Ticket ASAP
A trip to the movies is never really complete without making a stop at the snack bar. One of the perks of opting for a movie night out instead of a Netflix night in is loading up on movie theater popcorn and artificial butter, right? Well, now you can up your movie theater treats with this new twist on an old classic when you catch a flick at one of these movie theaters that sell Cheetos Popcorn.
According to a press release from Frito-Lay, Cheetos Popcorn will debut at participating Regal Cinemas across the U.S. on Dec. 15 — just in time for your holiday movie date. When you order a 32-ounce bucket of the cheesy goodness, you'll get Cheetos-flavored popcorn mixed with actual Crunchy Cheetos. I don't know who I have to thank for putting this on their Christmas wish list, but this sounds like the tastiest early Christmas present ever.
If you think you're excited about this new addition to your movie snack crew, you're not the only one. Sean Mathews, the director of marketing for Frito-Lay North America, exclaimed his excitement over the pairing when he said, "Cheetos and popcorn are the ultimate movie snack combination."
Cheetos Popcorn is here to give you the tastiest movie-going experience yet.
The timing for this snack-lovers movie treat couldn't be better, either. The end of the year is usually jam-packed with critically-acclaimed films vying for Academy Awards consideration. Even better news if you're a frequent Regal Cinemas moviegoer is that you can rack up your Crown Club card credits when you buy Cheetos Popcorn with your Crown Club card. According to the Regal Cinemas website, Crown Club members will get 500 extra credits loaded to their card when they use it to buy Cheetos Popcorn through Jan. 31, 2018. If you're not familiar, the Crown Club card earns you credits on ticket and concession purchases at Regal Cinemas, and you can use those credits toward free movies and concessions (like Cheetos Popcorn) in the future.
If you think that you might have heard of Cheetos Popcorn before (other than your dreams), that could be the case. The snack has been available previously at other venues across the U.S. (Red Sox fans were enjoying it at Fenway Park this summer), but the Regal Cinemas' Dec. 15 release of Cheetos Popcorn marks the first time that it will be available nationwide.
Regal Cinemas is also pretty pumped about this new mashup. According to Delish, Regal's senior vice president of foodservice, John Curry, shared that Cheetos Popcorn is Regal Cinema's holiday gift to moviegoers. Once again, I never would have thought to ask for this, but I am so glad that it is here despite its absence on my wish list.
While Cheetos Popcorn sounds like a pretty good excuse to get your butt to the movie theater, there are some winter days that just chill you to the bone, and leaving the house is not an option. Thankfully, on those days you can resort to trusty old Netflix. You probably have your favorite go-to shows, but if your ability to recite every Friends episode ever (from memory) is beginning to frighten you, then you can check out some of the newer shows that made their way into Netflix's 2017 Year in Review report.
If you want to fall into a binge-watching hole, then American Vandal and 13 Reasons Why should do the trick since they were in the top three of the most "Devoured" shows of 2017. If you want to take your time and actually be productive between episodes, opt for The Crown, which was the most "Savored" show of the year.
Even though Netflix is a master at sucking you in, it might just be worth it to throw on your winter coat and make your way to a Regal Cinemas theater this season. The Cheetos Popocorn will be hot and waiting for you.
Check out the entire Gen Why series and other videos on Facebook and the Bustle app across Apple TV, Roku, and Amazon Fire TV.