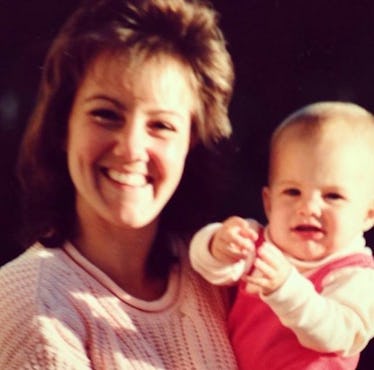 This Is The One Thing I Didn't Expect To Be So Difficult After Losing My Mom
On May 8, 2017, I was about to head to a yoga class when I got a text from my dad that read, "Time to talk?" My heart fell into my butt. My dad loves sending GIFs and Bitmojis, but only texts before calling if something is up. I froze. Everything that was about to change flashed in my mind. (How do '90s movies get this so right?) But receiving Mother's Day emails after losing my mom was not something that I anticipated would make me feel triggered, in the non-millennial way.
If I haven't already spoiled the ending, here's the crap truth: After five minutes of wondering, "If I don't call back, will this not be real?" I dialed my dad, and he confirmed the worst. My mom's breast cancer, which was now in her liver, had taken a sudden turn for the worse; her body was failing her after a 10-year fight. Her doctors said that she had about a week left, and I needed to come home as soon as possible.
I had a brief meltdown that I imagine sounded like a murder to my neighbors, but then was able to compose myself. It's strange when a thing that you knew was inevitable finally happens. It doesn't feel real, because it can't. In my state of alternate reality, I texted my best friends. Then, I called a bakery. Empire Bakery, to be specific. Mother's Day was just under a week away, and I wanted to bring the cake my mom loved that I promised for Sunday, which could be too late.
My roommate, friend, and a literal saint left work to bring the the cake from Manhattan to me in Brooklyn so that I could pack to go home. We had a stiff drink while I waited for the next Metro-North train to Connecticut and she helped me download a Netflix show on my phone to distract me on the hour and 10-minute trip up. (You could waterboard me and I wouldn't be able to tell you what show it was.)
I boarded the train and took my phone out, when I received an email from Walmart with the subject line, "Time Is Running Out! Shop Now for Mom!" I couldn't help but snort a laugh. Walmart marketing department, you motherf*ckers. Is this some more poor scriptwriting from a '90s movie about loss? "Time Is Running Out?" Seriously? Well, I have a cake, so there! I'm all set, anyways.
I had been getting "DON'T FORGET YOUR MOTHER" emails for weeks and demoting them to my trash folder unfazed, but this time, the timing felt like a cruel joke. I noted it as good material for something someday, then forgot about it. I had more important things to focus on.
Things like spending time with my mom. And eating that cake with my mom. And sipping a tiny margarita with her. And listening to her chat about baloney sandwiches at 3 a.m. And reveling in her relentless positivity, ability to stay in the moment, and sense of humor. Especially about the fact that this was all happening in the week leading up to Mother's Day.
My mom passed two days after Mother's Day, and nothing has been the same since, because duh. I spent the majority of the last year in something of a blackout — mostly due to grief, sometimes due to wine. I miss my mom every day, and I hate knowing that I can't pick up the phone and give her a call. Or see her. Or hug her.
I knew that the holidays would bring dark days. I knew that her birthday would bring tears of sorrow. I knew that I would have a difficult time going on Instagram the second Sunday of May this year and forever. But I didn't know that getting spammed with promotional emails would be legitimately painful.
Sometimes they infiltrate my day with a pretty basic subject line, like the "Mother's Day Brunch" reminder that my mom isn't here to eat eggs anymore or the "Mom Been Dropping Hints?" reminder that my mom isn't here to drop hints anymore. (And please don't tell me she is that butterfly out my window.) Other times, it feels like the Director of Marketing at Bouqs is out to sabotage my day: "Mom's gift can still make it in 5...4...3...2...1..." or "There's Always Time for Mom."
The strangest part about grief is that eventually you learn to live with it. You can't allow the sadness to dominate your life, especially if you are my mom's child. She would be genuinely angry with me if she thought I was sleeping all day (though there have been days) or crying all night (though there have been nights). At first, you feel guilty for enjoying yourself. But slowly, you come to understand that it's OK not to think of her every moment. It's OK to be in another moment. It's OK to live your life.
This is why the month-long deluge of "Kimberly — What Your Mom Really Wants" emails has been difficult to stomach. If I happened to be having a good day in late April, opening my email to read, "Celebrate mom with better family photos!" could torpedo it.
The pain is in the reminder. Mother's Day and the anniversary of my mom's passing are coming up, and there's nothing I can do to escape them, or the email reminders that they are coming. I don't have a mom on this planet, and it's been a whole year since I've seen her. Reality is hard to swallow.
While I wrote this article, I found an email in my spam folder that read, "No time like the present: last-minute gifts for Mom + last chance for free rush shipping." "No time like the present," was the epitome of my mom's spirit. Anne Foskett lived her life like her initials — AF. She was always in the moment, enjoying and savoring every second of it, even in her final week of life.
So while I can't rush-ship my mom a physical gift this year, I can give her the present of trying to live in the present. I don't know exactly what that looks like, but maybe it means allowing myself to feel every last one of my feelings: the good, the bad, and the unpredictable.
I think my mom would be OK with me doing a cry-scroll through Instagram this Sunday. She'd also tell me to go drink margaritas and laugh with my dad and brother. She'd encourage me to publish this article even though I don't think I've done her justice. She'd say it's OK to get irrationally angry at those goddamn emails, even though she'd also be laughing at me.
She'd want me to live life AF, and that's what I'm going to do this Mother's Day, "There's Still Time!" emails be damned.