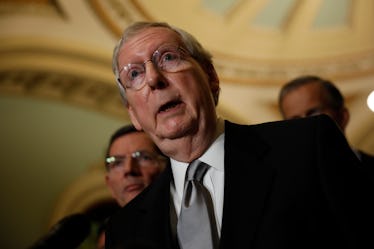 This GOP Leader Said Congress Can't Do "Much" About School Shootings & WTF, Dude
Aaron P. Bernstein/Getty Images News/Getty Images
Everyone has their own opinion when it comes to politics, but there are just some things that you shouldn't say — especially when it comes sensitive topics such as school shootings. In a time in United States history where there is such a large public outcry to the government calling for gun control, Senate Majority Leader Mitch McConnell said Congress can't do "much" about school shootings, according to The Hill. That's... quite a statement, coming from the leader of the majority party in Congress.
On July 3 while speaking to a group of community leaders in Danville, Kentucky, McConnell said that, "I don't think at the federal level there's much that we can do [about school shootings] other than appropriate funds," according to the Lexington Herald Learner. McConnell does not support gun control legislation, so his sentiment here is to be expected. But to suggest that there's literally nothing that the federal government can do about this issue is truly mind blowing. Not least of all because if you ask actual survivors of school shootings, they seem to think there's plenty that Congress can do.
McConnell's comment comes after the nation has experienced multiple school shootings in the span of just six months, and one of those shootings happened in McConnell's home state of Kentucky in January 2018. On Jan. 23, two students were killed at Marshall County High School in Benton, and 18 others were injured after an active shooter attacked the school's campus. As of May 25, there have been 23 school shootings in 2018 where someone's been injured or killed, according to CNN. The deadliest of these school shootings happened on Feb. 14 in Parkland, Florida, after a former student killed 17 people from Marjory Stoneman Douglas High School.
The survivors of these shootings, many of whom are teenage students, have banded together to start a movement calling on the U.S. government to finally take action. The March For Our Lives protest that took place on March 24 was perhaps the biggest gun control demonstration that the country and the world has seen, and it was all started by the students from Parkland. In a petition that can be found on the march's site, these students and their allies call on Congress to pass laws that will "ban the sale of assault weapons" like the ones used in Parkland and countless other mass shootings. Other demands are that Congress pass legislation to prohibit "the sale of high-capacity magazines," as well as enact stricter background check laws and close loopholes that allow people to buy guns without a background check from unlicensed sellers at gun shows or online, to better prevent weapons from falling into the wrong hands.
So, that sounds like quite a few things Congress can do.
But McConnell's comments are unsurprising, considering he has consistently prevented gun control legislation from seeing the time of day on the Senate floor. In March 2018, legislation that specifically addressed the Parkland shooting was tabled by McConnell, who instead decided to entertain banking reform legislation. And after the 2012 Sandy Hook shooting that saw 26 people, 20 of them young children, killed, McConnell also stood against President Barack Obama's gun control reforms, which would have required universal background checks and prohibited magazines of more than 10 rounds, per USA Today.
McConnell seems to think that this type of legislation wouldn't work, and that instead feels that inadequate school safety is why school shootings are happening so frequently. He said in that same meeting with community leaders in Danville on July 3 that,
You would think, given how much it takes to get on an American plane or given how much it takes to get into courthouses, that this might be something that we could achieve, but I don't think we could do that from Washington, I think it's basically a local decision.
I don't quite understand the airport security analogy that McConnell is getting at here, but I do agree that you'd think preventing or reducing school shootings would be something that Congress could achieve. Let me make a wild suggestion: maybe it's worth trying to do.