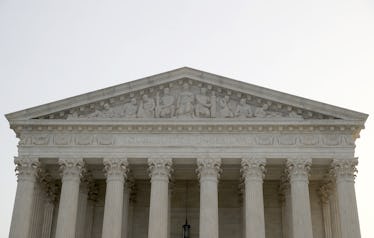 The Supreme Court Is Letting This State's Anti-LGBT Law Stand, Because 2018 Already Sucks
Win McNamee/Getty Images News/Getty Images
The country's highest court is receiving national attention for their latest decision. On Jan. 8, the Supreme Court declined to hear arguments on Mississippi's anti-LGBT law that allows private business and state employees to deny services to lesbian, gay, bisexual and transgender people based on religious beliefs. And I think it's safe to say that 2018 is off to a lousy start.
On Monday, Jan. 8, SCOTUS announced that they wouldn't intervene in the fight over a Mississippi law which allows businesses and employers to deny services to LGBT people based on religious beliefs, according to NBC News. The law, called the Protecting Freedom of Conscience from Government Discrimination Act (or HB 1523), was signed into effect in 2016 by Mississippi Gov. Phil Bryant, and took effect in October 2017. In a nutshell, it grants county clerks the ability to refuse to issue marriage licenses to gay couples, and protects businesses from lawsuits from LGBT customers who have been refused services. It would apply to adoption agencies, doctors, landlords, schools, and employers, who would be all be allowed to deny services to LGBT people on the grounds of religious beliefs.
So what does this mean? If a transgender person wants to get gender reassignment surgery, a doctor has the right to decline the surgery under the protection of the bill if their religious beliefs call for it. Or if foster parents want to subject their LGBT child to conversion therapy, a highly debated practice, they are permitted to do so. The law also allows for landlords to deny housing to LGBT individuals, or for employers to fire them over their sexual orientation.
This is only the latest step in the legal battle for LGBT rights in Mississippi.
In 2016, a federal judge in Mississippi said HB 1523 allowed "arbitrary discrimination" against LGBT people and blocked it, citing the law as "unconstitutional." However, the U.S. Court of Appeals for the Fifth Circuit overturned that ruling on the basis that plaintiffs lacked standing. They ruled that since the law hadn't gone into effect, there was no way they could be harmed by it. Since that ruling, the road has been bumpy, garnering praise and protest from people all over the world.
Following the latest legal inaction, Masen Davis, CEO of the LGBT advocacy group Freedom for All Americans, shared his thoughts in a statement. He said,
The court's inaction today means that LGBT Mississippians will continue to face harassment and discrimination. HB 1523 fails to honor the tradition of religious freedom in America — instead it allows people to use religion as a license to discriminate. The LGBTQ community remains in harm's way every single day that this law is in effect, and we are committed to working with our legal partners to strike this draconian measure once and for all.
Beth Littrell, an attorney for Lambda Legal, a civil rights organization for LGBT people, shared similar thoughts and vowed to continue fighting in a press release. She wrote,
The Supreme Court's decision not to review this case is not an endorsement of HB 1523 or the wave of similar discriminatory laws across the country, and it does not change what the court clearly ruled in Obergefell v. Hodges, and more recently in Pavan v. Smith, that same-sex couples and their families should be treated like other families in this country and not to do so is harmful and unconstitutional.
On Twitter, some of shared their interpretation of the decision.
Many people posted messages that detailed their frustrations, and what the law means for those affected.
So what next?
It's clear that for LGBT individuals and advocates, the fight isn't over. There's no way to tell what the future will bring, but at least we know there are still people who are working for justice.