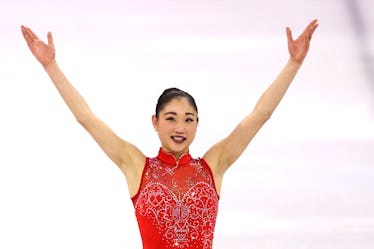 Mirai Nagasu Is Skating To Such Emotional & Perfectly Chosen Music
Maddie Meyer/Getty Images Sport/Getty Images
On Wednesday, Feb. 21 in PyeongChang, South Korea (Tuesday night in the U.S.), American figure skater Mirai Nagasu will make her debut in the individual competition at the 2018 Winter Olympics. To begin the women's individual competition, Nagasu and the other skaters will be performing their short programs. The music Nagasu uses for her short program is bucking the trend of this year's Olympics, and she has a good reason for that.
Nagasu skates her short program to violin and piano duet version of Frederic Chopin's classic "Nocturne in C-Sharp Minor," which was originally composed for the piano in the latter half of the 19th century. Chopin wrote a ton of nocturnes — which just means music that sounds like the night, so think dark, somber, and contemplative — and the C-sharp minor is an exceptionally beautiful one, which explains why it's one of the more well-known classical pieces.
Nagasu has used this piece as her short program music since last season, according to Inside Skating. She told Inside Skating that she really connects to the piece — and it helps that she's scored very highly with it in the past. In an interview with InStyle, Nagasu called the piece "really beautiful but haunting."
You can see her skate to the Chopin nocturne in her short program at the 2017 U.S. nationals below:
"I like to rely on my classical ballet training to showcase beautiful lines and since there isn't a clear cut story, as there is in Miss Saigon [the music from which she uses for her free skate], I made up a story to perform on the ice about a fallen angel," Nagasu told InStyle.
The Chopin piece is slow with flourishes (little humblebrag here, I played it on the piano in high school so I can tell you all about it). It opens with six intense chords, which soften into the heavy, ruminatively mournful theme. As the very creative title indicates, it's in the key of C-sharp minor, and if you took any basic music theory classes, you know that minor keys are typically darker (as opposed to major keys, which are brighter and, well, happier), so it's got ALL THE EMOTION. Chopin does this amazing thing with his music where it's all controlled outbursts, so the music will suddenly thread out in these gorgeous runs but be pulled back to the original theme and basic rhythm, and this piece is a perfect example of that. The piece ends with these wild runs (i.e. a pass of a ton of notes all in a row), including this ridiculous 35-note run that literally took me a full month to perfect. When you get it right, it feels like winning a gold medal.
Nagasu's music choice sets her apart from the prevailing theme of this year's programs. This year, figure skaters can use songs with lyrics in them for the first time, and many skaters are taking advantage of that by skating to artists like Beyoncé and Ed Sheeran. Nagasu, however, is choosing to stick to the more archetypal music figure skating has been known for (not to say it's not a beautiful piece! Just a little cliché!). Nagasu told the Team USA site that she wanted to stay classic because of her ballet background.
That said, she's not the only Chopin skater in competition. Evgenia Medvedeva, an 18-year-old skater from Russia, uses the "Nocturne in C-Sharp Minor" for her short program as well. Medvedeva leans into the whole nocturnal theme, making her program quite literally about "clinical death," according to CNN. In fact, she takes advantage of the "lyrics are OK" rule, as a woman's voice speaks in the middle of the routine, according to The New York Times, saying, "Come back."
It's a battle of the Chopins on the ice at PyeongChang, and I could not be more devastatingly jazzed.