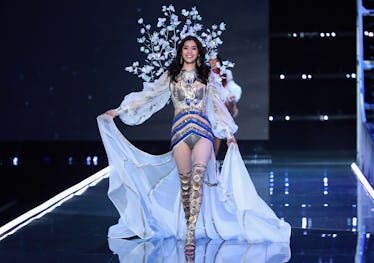 Victoria's Secret Model Responds To That Awkward Fall During The Fashion Show
Lintao Zhang/Getty Images Entertainment/Getty Images
The Victoria's Secret Fashion Show doesn't air until Nov. 28. Luckily, for all you impatient people out there (me), the show already filmed on Nov. 20. Thanks to the magic of social media, we already know most of the juicy details that happened during the show. One instance that people have been talking a lot about is the unfortunate tumble one model took while making her strut down the runway. Model Ming Xi's response to falling during the VS Fashion Show is seriously so, so gracious.
Falling during a show (I'm assuming) is a model's worst professional nightmare. To add more pressure this year, the show actually took place in Ming Xi's hometown of Shanghai, China. After the show, the model said on her Weibo account,
I'm sorry I disappointed everyone, thank you all for your concern, being a model for seven years, I've fallen countless times on the way... but I know regardless how painful it is, I have to stand up, finish walking. I'll continue walking on. TY
Honestly, the model handled the situation like a kween, and has gotten amazing feedback from fans.
The model took to her personal Instagram on Nov. 21 to talk more about the fall and the outpouring of support she has received. She said in the caption of the photo from the show,
As many of you may already know, I fell during my 5th year walking at the Victoria's Secret show yesterday. It was no doubt one of the hardest moments I have ever had to go through in my career, especially since the show was taking place in my hometown, in front of my mother's and my people's eyes. However, the support I received from everyone yesterday was incredible and I am truly grateful to everyone who was there for me. @ed_razek Thank you for your supportive words and your continuous support throughout these 7 years. @giizeleoliveira Thank you for helping me up after the fall, it was a very selfless and loving act from you. Thank you to all the girls who rushed to comfort me at backstage after what had happened, you are all family to me. Lastly thank you to everyone who sent and left me supportive messages. I will pick myself up from where I fell, and I will keep going in order to repay all the support you all have given me!! #vsfashionshow @victoriassecret
Ming Xi was walking in an extravagant white, blue, and gold ensemble that included a flowery attachment on her back. What seemed to happen is Ming Xi accidentally stepped on her billowing train and slipped. Honestly, it could have happened to anyone — those trains are so extra.
Since this was Ming Xi's fifth strut down the catwalk, we know she's a total pro. This is best shown by her reaction after the fall. She never drops the smile from her face, and proudly stands to finish her walk. Basically, it's the prettiest anyone has ever looked while falling... ever.
Another important note to mention is the grace displayed by fellow model, Gizele Oliveira. Besides helping Ming Xi get back on her feet, Oliveira gives her an ample chance to finish her walk down the runway.
Gorgeous, gracious, and incredibly nice — some people do have it all.
Usually, the VS models walk the runway twice, so the fall will probably not be aired during the broadcast on Nov. 28. However, you will still get to see Ming Xi totally slay the runway.
Personally, I'm amazed by Victoria's Secret models. Walking around in my underwear in front of literally millions of people is my nightmare. The angels make it look so effortless and fun, even though I'm sure those shoes hurt their feet. Ming Xi handled falling as gracefully as anyone could. I can't wait to see her do her thing during the show.
Check out the entire Gen Why series and other videos on Facebook and the Bustle app across Apple TV, Roku, and Amazon Fire TV.