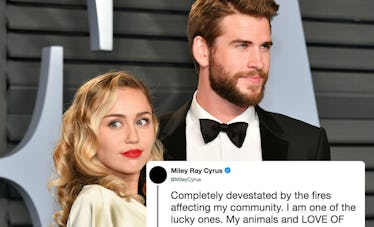 Miley Cyrus' Reaction To Her Home Burning Down In The California Wildfires Is Heartbreaking
Dia Dipasupil/Getty Images Entertainment/Getty Images
Miley Cyrus and Liam Hemsworth are two of the many people to lose their home to the devastating Woolsey fire in California. The singer revealed the sad news in a series of tweets on Monday, Nov. 12, and Miley Cyrus' tweets about losing her home in the California wildfires are so heartbreaking, considering the story of how her and Hemsworth's lives have been so tied to that particular house, both while they were broken up from 2013 to 2016 and after they got back together.
"Completely devestated by the fires affecting my community," Cyrus tweeted early in the morning of Nov. 12. "I am one of the lucky ones. My animals and LOVE OF MY LIFE made it out safely & that's all that matters right now." The love of her life she's referring to is Liam Hemsworth, with whom she shared the house in Malibu with their litany of pets, all of which made it safely out of the house as well.
Cyrus revealed in the rest of her tweets that her and Hemsworth's house burned down in the fire. She said,
My house no longer stands but the memories shared with family & friends stand strong. I am grateful for all I have left. Sending so much love and gratitude to the firefighters and LA country Sheriff's department! If you are interested in getting involved see next tweet.... Donate $ , Time , Supplies. I love you more than ever, Miley.
She followed that tweet up with another tweet filled with links to resources where people could help those affected by the wildfires.
Liam Hemsworth has not yet commented on the situation.
The house the couple shared in Malibu has been part of their lives for years. When Cyrus and Hemsworth broke up in 2013, Hemsworth moved out of the previous house they shared in Studio City and into the one in Malibu that has been destroyed in the fire. What he didn't know when he moved into the house was that it was the same one Cyrus recorded her Meet Miley Cyrus album in years before. The man selling the house to Hemsworth hid all of the plaques commemorating Cyrus' time there so he wouldn't back away from buying the home.
Cyrus told this story in an interview with Howard Stern in an October 2017 interview. "When we broke up," she recalled, "he wanted to get away from me... The person hid all the plaques in the garage so he would still buy the house. So then he went to move in and he was like, 'F*ck! I cannot get away. This b*tch is all over my f*cking house!"
They got back together in 2016, and Cyrus eventually moved into the same Malibu house with Hemsworth. Their new life together in that house was the inspiration behind Cyrus' single "Malibu."
Cyrus and Hemsworth join a list of celebrities whose homes were also destroyed in the fires. Gerard Butler, Robin Thicke, and Shannon Doherty all lost their homes. The Bachelor mansion was damaged in the fire, but reportedly will be OK following restorations. Many famous families in the area evacuated their homes as well. The Kardashians, Jamie Foxx, Orlando Bloom, Lady Gaga, and more all posted about having to evacuate.