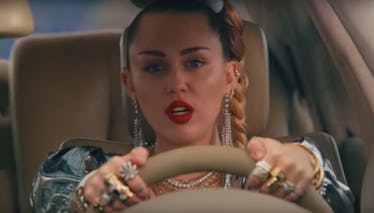 5 Easter Eggs In Miley Cyrus' "Nothing Breaks Like A Heart" Music Video That Are So Sneaky
YouTube
Miley's back, y'all. Actually, she's better than ever in her new music video, "Nothing Breaks Like A Heart." The 26-year-old singer has made her fans wait for quite some time for new music, after dropping her last album, Younger, back in September 2017. And guess what? It was totally worth the wait. The song itself is beyond my wildest imagination, but it's Miley Cyrus' "Nothing Breaks Like A Heart" music video's many easter eggs that are making me give a round of applause to the pop star.
It was many moons ago (read: May) when Cyrus took to her Instagram story to show that she was in the studio with Mark Ronson, and on Nov. 26, it was finally revealed that their single, "Nothing Breaks Like A Heart," would be released on Nov. 29. After the song was finally dropped, her fans got to see a really different side of Cyrus, and her lyrics are somehow both simultaneously sorrowful and expectant.
Here are some of the lyrics to "Nothing Breaks Like A Heart":
I heard you on the phone last night / We live and die by pretty light, you know it / We both know it / These silver bullet cigarettes, this burning house / There's nothing left, it's smoking, and we both know it / We got all night to fall in love / But just like that we fall apart, we're broken, we're broken / Nothing, nothing, nothing gon' save us now
And the chorus goes like this:
This broken silence, my thunder crashing in the dark / Crashing in the dark / And this broken record, spinning in circles / In the bars, spinning 'round in the bars / This world can hurt you, it cuts you deep and leaves a scar / Things fall apart, but nothing breaks like a heart, ooh / Nothing breaks like a heart, nothing breaks like a heart
You can listen to the whole song below, and, while you're at it, take a close look at all of the scenes in the video and see if you can spot any of the Easter eggs in it:
Did you catch any?
Totally cool if you didn't, because I'm here to help you out.
1. The "Wrecking Ball" figurine hanging from the rearview mirror:
We're barely even 15 seconds into the video when we see a tiny figurine that appears to resemble Cyrus' famous wrecking ball scene from her music video.
2. Photos of Miley Cyrus from the "23" music video appear in the helicopter:
Cyrus starred in the Mike WiLL Made-It video, and those images make a cameo inside of the helicopter chasing Cyrus' car.
3. Her car's license plate is from Tennessee:
Despite the fact that the video was shot in Ukraine, Cyrus made her getaway car's license plate from Tennessee, which is where she grew up.
4. Cyrus drove through a strip club in the music video, which may be a nod to her Teen Choice Awards scandal:
Remember when Miley Cyrus performed at the 2009 Teen Choice Awards and seemingly danced on a stripper pole, sparking a ton of controversy?
Perhaps this was a nod to that performance that many people considered questionable (but all I thought was, "She's just being Miley!").
5. We see rubber duckies, like those featured in "BB Talk," in the hot tub:
In her getaway car, Cyrus drives through a room where two women are chilling in a hot tub, surrounded by toy rubber duckies — much like the ones that were in her "BB Talk" music video from 2015.
This was... certainly a time to be alive.
I personally feel like this video paid homage to so many things from Miley's past, and did an excellent job at transforming those things into tangible objects for the viewer to understand. Bravo, Miley. Bravo.