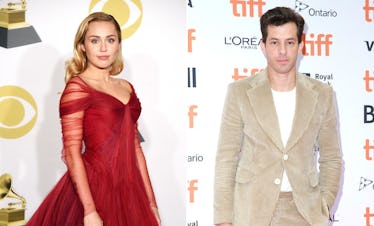 Miley Cyrus' New Song Is So Relatable If You've Ever Gotten Your Heart Broken
Michael Loccisano/Rich Fury/Getty Images Entertainment/Getty Images
Let's give a warm welcome back to Miley Cyrus, fam! It's been well over a year since her last album, Younger, dropped back in September 2017, so it's safe to say that her fans have been eagerly awaiting more music from the pop star. Back in May, Cyrus posted an Instagram Story in the studio with Mark Ronson, all but confirming that the pair would be creating something magical together. It was finally revealed on Nov. 26 that their new single, "Nothing Breaks Like A Heart," would be released on Nov. 29. After initially believing that the world would first hear the song when they performed on The Graham Norton Show on Dec. 7, the track's early release is basically like an early Christmas present. And Miley Cyrus' and Mark Ronson's "Nothing Breaks Like A Heart" lyrics are beyond moving.
All of this went down at the same time that the 26-year-old Bangerz singer totally wiped her Instagram account clean, and in its place, uploaded video clips that spell out "Nothing Breaks Like A," with the last video featuring a disco-ball style broken heart.
The first clip featured the same disco-ball broken heart slowly turning, with some instrumental music playing in the background. Cyrus captioned the clip, "11/29 💔 @iammarkronson," which definitely confirmed the release date and gave us a small hint as to what's to come in terms of the overall feel of the song:
Ronson posted the same video to his account, writing, "the heartbreak era is coming….sooner than u think."
Sooner than we thought, indeed.
And now that the song is finally out, fans are in love with the track. It's equal parts heartbreaking and hopeful, but the lyrics to "Nothing Breaks Like A Heart" prove that Cyrus is one artist who's always game to produce truly moving music.
Here's a look at the first verse:
I heard you on the phone last night / We live and die by pretty light, you know it / We both know it / These silver bullet cigarettes, this burning house / There's nothing left, it's smoking, and we both know it / We got all night to fall in love / But just like that we fall apart, we're broken, we're broken / Nothing, nothing, nothing gon' save us now
The chorus goes like this:
This broken silence, my thunder crashing in the dark / Crashing in the dark / And this broken record, spinning in circles / In the bars, spinning 'round in the bars / This world can hurt you, it cuts you deep and leaves a scar / Things fall apart, but nothing breaks like a heart, ooh / Nothing breaks like a heart, nothing breaks like a heart
Sad, right? The second verse is sad as well:
We'll leave each other cold as ice / And high and dry, the desert wind it's blowing, it's blowing / Remember what you said to me? / We're drunk in love in Tennessee / And I'll hold it, we both know it / Nothing, nothing, nothing gon' save us now
How gut-wrenching are those lyrics? Hitting me right in the damn feels.
Before the song's release, a source close to Miley reportedly told Entertainment Tonight, "Miley was so excited to share a preview of her music," adding that "Miley's new sound is something a little more organic. She loved the pop, but she went for a more mature sound and sophistication in her new music."
"Miley has always been great at reinventing herself," the source continued, saying, "She feels at the top of her game."
If you ask me, Miley is always at the top of her game.
Yes, girl!
And, as if we weren't #blessed enough by the song dropping, we also got word that Cyrus and Ronson would be appearing on Saturday Night Live on Dec. 15 as musical guests:
All I can say is that the holiday season is obviously in full swing, because new music from Miley is the gift that will keep on giving.
So there you have it, fam. A very Miley Christmas to all, and to all a good night!