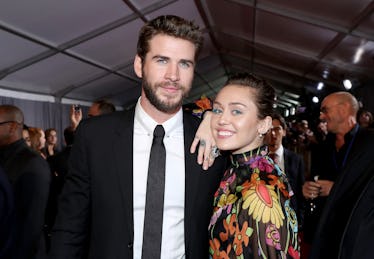 Miley Cyrus & Liam Hemsworth's Astrological Compatibility Shows Opposites Do Attract
Rich Polk/Getty Images Entertainment/Getty Images
If you're a Miley Cyrus and Liam Hemsworth stan, then chances are this has been a real roller coaster of a month for you. On July 13, Cyrus up and deleted everything off her Instagram. Folks immediately jumped to the conclusion that this digital purge must spell doom for her and long-time boyfriend, Hemsworth. Fortunately, the couple refuted the breakup rumors with an adorable video on Instagram. Whew. But why would people immediately be so fatalistic? Well, it could be that they've taken a look at Miley Cyrus and Liam Hemsworth's astrological compatibility, or perhaps they've just followed the ups and downs of the couple's romantic history. Let's be honest, it's been rocky.
If you haven't been keeping up, here's a little back-story. Cyrus and Hemsworth first met on the set of their film The Last Song in 2009. It didn't take long for rumors of them dating to begin circulating, and in 2010, they made their official red carpet debut as a couple. They split for the first time that August, citing their busy schedules. A month later, things between them seemed to be back on track, but they confirmed it was a wrap on the relationship again that November.
Of course, that wasn't really the end of the road for these two, and in June 2012 the couple announced they were engaged. Then, they rode off into the sunset together. Just kidding! In August 2013, they made their last public appearance together before breaking up again. Three years and various versions of Miley later, in January 2016, she was seen wearing her engagement ring again. Sources confirmed to People that the couple was back together, and yes, engaged again.
So, could some of these ups and downs have been predicted by the stars? Miley's birthday is Nov. 23, making her a Sagittarius, and Liam was born Jan. 3, which falls under the sign of Capricorn. These signs may be neighbors, but they are the very definition of opposites attracting. Here's what we can infer about their connection, based on their signs.