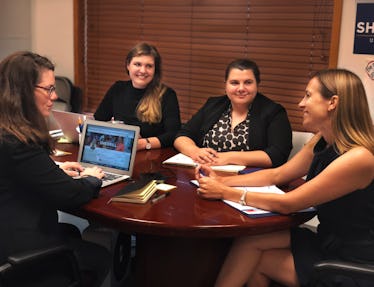 Millennial Women Are Leading This Female Candidate's Campaign That Could Help Flip Congress
Mikie Sherrill for Congress
Wins by young progressive women across the country have been gaining national attention. But it's not just the candidates themselves that are changing the face of politics. On New Jersey candidate Mikie Sherrill's campaign team, young women are also holding the reins in what's already proven to be a successful campaign.
The campaign for Sherrill, the Democratic candidate for New Jersey's 11th Congressional district, started more than a year ago as a four-person team. Since then, the official staff size has nearly quadrupled, and the larger campaign has over 100 interns and hundreds of volunteers. Eight of the 15 full-time, paid staffers, are women, and of the six leadership roles, five are held by women. At least three of those women in top roles — campaign manager Mollie Binotto, finance director Hilary Badger, and communications director Jackie Burns — are millennials.
The face of campaigns and who's doing what is changing, and we're just in the middle of that moment.
Badger, Binotto, and Burns were inspired to join Sherrill's campaign because of her unique story as a candidate, they tell me in an interview for Elite Daily. Sherrill, 46, is a former Navy helicopter pilot, a former federal prosecutor, and a mother of four.
"Is she a unicorn? Is she real?" Binotto jokingly recalls asking herself when she first learned of Sherrill.
The race for the 11th district, which went for Donald Trump in 2016, has become a key part of the Democrats' efforts to flip Congress, thanks to the strength of Sherrill's campaign. The incumbent, hard-right Rep. Rodney Frelinghuysen, chairman of the House Appropriations Committee, announced earlier this year he would not seek reelection after holding the seat for 12 terms, and after Sherrill won the June primary, Cook Political Report rating tipped the district in her favor from "Toss Up" to "Lean Democratic."
Sherrill is facing off against Republican Assemblyman Jay Webber in November, and with the backing of groups like the Sierra Club, Human Rights Campaign, Emily's List, New Politics, and The New York Times, she hauled in a record-breaking $1.9 million in fundraising in the last quarter. RealClearPolitics' most recent June report has her up 4 points in the polls.
Among Sherrill's policy priorities, should she win the seat, are issues that hit home for Badger, Binotto, Burns, and other young women like them: access to affordable health care and higher education, reproductive rights, and equal pay. Her distinctive candidacy, the women say, was able to draw political talent in from outside the norm to support the campaign. While all of them had volunteered or interned for candidates previously, only Binotto had worked on campaigns in a professional capacity.
Binotto, 33, Burns, 31, and Badger, 26, may not fit the bill for what people expect a campaign team to look like. According to an Elite Daily count of six staff rosters for the 2016 presidential election campaigns, women averaged less than a quarter of the top listed roles on each campaign. Only three women — Sarah Huckabee Sanders, Beth Hansen, and Kellyanne Conway — served as campaign managers during the 2016 cycle, which fielded nearly two dozen candidates for the presidency.
People at campaign events have sometimes been surprised when the women on Sherrill's team mention they're in leadership roles, they say. In fact, Badger says she's had to correct people who've asked if she's interning on the campaign, explaining that she's actually a full-fledged staffer. Once the initial surprise wears off, though, she says people tend to express the same positive sentiment about seeing young women in charge: "This is the future."
"The face of campaigns and who's doing what is changing, and we're just in the middle of that moment," Badger says.
"We're the future of where the party is going," Binotto says. She says she can easily think of at least six women like her who are running campaigns — something that hasn't necessarily been the norm in mainstream politics, but appears to be shifting in this election cycle especially.
This is a profession and calling that is open for anyone and everyone.
"I don't feel alone," Binotto adds. "I don't think of myself of being on my own, but one of many women who are young and millennial, doing this job and looking to shape the future of the Democratic party, and hopefully Congress and Senate."
Burns says that volunteers especially have been receptive to seeing a young women-led campaign, and it's inspired donors as well. "Coming into the office and seeing young people who are working hard to change the way things are, I think, is uplifting for a lot of volunteers, and they say it all the time," Burns says, noting they comment on the campaign's diversity especially. "I'm sure that's happening all around the country."
"Donors look at someone like Mikie and they see the future, and they look at me and Mollie and Jackie and the campaign that we're running and they see the future," Badger says. "It's something they want to invest in and it's something they're excited about."
This positive reception speaks to a larger picture where citizens appear ready and willing to get fresh perspectives in politics at every level, from those running for office to those running campaigns. And those same people — even those who hadn't previously demonstrated that level of civic engagement — seem to be rolling up their sleeves, too.
Burns, a House historian by training, has noticed that everyday people outside the Washington bubble are seemingly paying more attention to even the finer points of politics. Calling herself a policy "nerd," she says, "I've always been on an island out there alone" when talking about legislation, but now, "people are engaging in the legislative process in ways that I haven't seen."
Badger has noticed that people aren't just donating to the campaign — they're signing up to phone bank, canvass, send out emails, anything and everything they can to get involved. Binotto, who worked on the Obama 2008 campaign, likens the current political energy of today to that of a decade ago.
"People feel like the work they're doing before election day is critically important," she says, "and the result has meant that they're here every weekend in July."
The three women, having now worked on a thus-far successful House campaign, have some advice for those outside the establishment looking to get involved. Badger, for her part, encourages young women to lean on other women and reach out to the existing networks they have.
"Get on the plane, go get involved and do this. Make some phone calls, knock some doors, volunteer," Binotto says. "This is a profession and calling that is open for anyone and everyone."
"It's the people's house," Burns adds. "If you don't show up, you're not going to be able to impact any change."
The November election is still a few months out, and there's no guarantees of who might take the open seat for New Jersey's 11th district come fall. But the fact that young women have helped propel a candidate this far is in itself worth getting excited about.