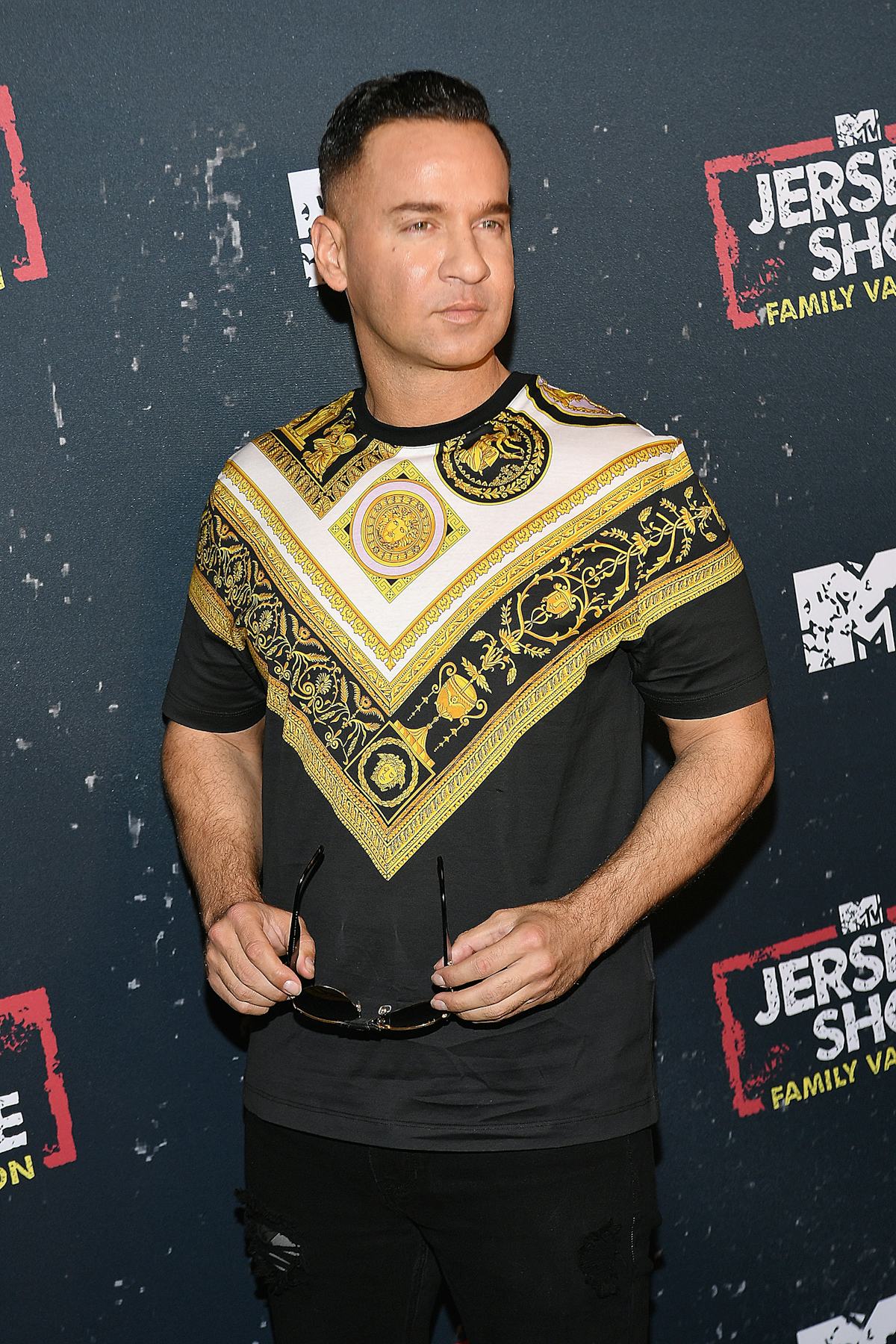 Mike "The Situation" Sorrentino's Statement On His Jail Sentence Is All About Positivity
Dave Kotinsky/Getty Images Entertainment/Getty Images
Jersey Shore's Mike "The Situation" Sorrentino went to federal court in Newark, NJ on Friday, Oct. 5 to receive his sentence for tax evasion and was sentenced to eight months in prison and two years supervised probation. The news was confirmed to Elite Daily by Sorrentino's team via email. And now, The Situation has given a statement on his jail sentence, and he's bringing nothing but positivity to the table.
According to TMZ, Sorrentino reportedly arrived to receive his sentence with his Jersey Shore castmates Pauly D, Ronnie Magro, JWoww, Vinny Guadagnino, Snooki, Deena Nicole Cortese, and Angelina Pivarnick by his side.
Sorrentino's team gave a statement to Elite Daily, saying,
Mike accepts the courts decision and looks forward to marrying his college sweetheart, Lauren Pesce and moving forward together after serving his sentence. He anticipates to come back stronger as an individual and couple in the same healthy mind set that he has had for the last 3 years. He and Lauren are both so thankful for everyones support and prayers!
According to People, The Situation's brother Marc Sorrentino, was reportedly sentenced to 24 months in prison on Friday, Oct. 5, for reportedly "aiding in the preparation of a false and fraudulent tax return." Elite Daily reached out to Marc Sorrentino's team for comment on the report, but did not hear back by the time of publication.
Before The Situation's sentencing, Court documents obtained by People reportedly stated:
From in or about January 2010 through in or about November 2013, in Monmouth and Ocean Counties, in the District of New Jersey and elsewhere, defendants Marc Sorrentino and Michael Sorrentino, aka 'The Situation,' did knowingly and intentionally conspire and agree with each other and others to defraud the United States by impeding, impairing, obstructing, and defeating, through deceitful and dishonest means, the lawful functions of the IRS, a constituent agency of the United States Department of the Treasury, to ascertain, compute, assess, and collect federal income taxes.
Back in September 2014, it was initially reported that both siblings were indicted for tax offenses as well as conspiring "to defraud the United States after allegedly failing to properly pay taxes on $8.9 million in income from 2010 to 2012." People noted that both brothers had reportedly "failed to properly pay taxes on $8.9 million in income from 2010 to 2012."
Fast-forward to April 2017, where both Mike and Marc Sorrentino were reportedly indicted on additional charges of "tax evasion and structuring funds to evade currency transaction reports and Marc is now also charged with falsifying records to obstruct a grand jury investigation."
It seems that The Situation has accepted the consequences of his actions, but many fans have rallied behind him showing their support on social media through the hashtag #FreeTheSituation:
I mean, The Situation *did* bring us GTL and the fist-pump, so even though there can't be a full pardon, surely that should count for something, right?
Though one Twitter user summed up The Situation's ~situation~ pretty well:
Here's hoping that his sentence goes by quickly. We know that his fans and his Jersey Shore family will all be anxiously awaiting his return.