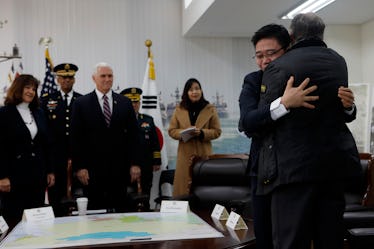 Otto Warmbier's Father Shares A Heartbreaking Moment With North Korean Defector
Woohae Cho/Getty Images News/Getty Images
At the PyeongChang Olympics opening ceremony, Vice President Mike Pence was photographed just feet away from Kim Yo Jong, the younger sister of North Korean dictator Kim Jong-un. Just hours before, however, the vice president was in a totally different position. Ahead of the opening ceremony, Mike Pence and Fred Warmier shared an emotional moment with North Korean defector, Ji Seong-ho, who has told stories of being tortured by the Kim regime.
Fred Warmbier is the father of Otto Warmbier, a student who was arrested in North Korea, reduced to a coma while in captivity, and died upon his return to U.S. soil. The elder Warmbier traveled with Vice President Pence to South Korea, where both men met with three other North Korean defectors on Friday, Feb. 9.
Ahead of the Winter Olympics, Fred Warmbier, his wife, Cindy, and Otto's siblings were guests of President Donald Trump at the State of the Union address in January.
During the address, President Trump honored the Warmbier family and outlined the series of events that led to Otto's death last June.
"Otto Warmbier was a hardworking student at the University of Virginia," Trump said during his speech before Congress. "On his way to study abroad in Asia, Otto joined a tour to North Korea. At its conclusion, this wonderful young man was arrested and charged with crimes against the state. After a shameful trial, the dictatorship sentenced Otto to 15 years of hard labor, before returning him to America last June — horribly injured and on the verge of death. He passed away just days after his return."
Days later, the White House announced that Fred Warmbier would be the personal guest of Vice President Mike Pence and the purpose of the invitation was made clear.
According to ABC News, a White House official explained the decision with the following message: "As you saw in the State of the Union, the president laid out what happened to Otto and the vice president will be there with Mr. Warmbier at the Opening Ceremonies to remind the world of atrocities that happened in North Korea."
The presence of Fred Warmbier at the Winter Olympics presents a huge contrast between two allies, South Korea and the United States, and their respective relationships with North Korea.
In the months leading up to the PyeongChang Olympics, both sides of the Korean peninsula have come together for diplomatic talks, agreeing to a number of gestures that show a semblance of camaraderie. North Korea agreed to send a delegation to PyeongChang that includes athletes, diplomats and North Korean leader Kim Jong-un's younger sister, Kim Yo-jong.
While South Korea's gestures towards the north indicate a willingness to increase dialogue, the American stance has been different. On his way to South Korea for the start of the Olympics, Vice President Mike Pence has continually highlighted why the Unites States stands against North Korea.
"As we speak, an estimated 100,000 North Korean citizens labor in modern-day gulags," Pence said during a stop at the Yokota Air Base in Japan. "Those who dare raise their voices in dissent are imprisoned, tortured, and even murdered, and their children and grandchildren are routinely punished for their family's sins against the state."
Highlighting Pence's steadfast messaging against the North Korean regime was the vice president not acknowledging the unified Korean Olympic team as it marched during the opening ceremony's Parade of Nations.
The fate of Otto Warmbier now stands as arguably the most infamous story of how North Korea treats political dissidents. During an appearance on Fox & Friends last September, Fred Warmbier said his son's condition upon returning to American soil showed signs of having been tortured.
"Otto was on the stretcher … and was jerking violently, making these inhumane sounds," Fred Warmbier said. "He was blind. He was deaf. It looked like someone had taken a pair of pliers and rearranged his bottom teeth."
Fast forward to Friday morning, hours before the Olympics opening ceremony, and Fred Warmbier shared an emotional moment with a North Korean defector who had a similar story: one of torture by Kim Jong-un's regime.