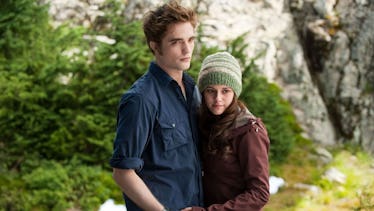 Stephenie Meyer's New 'Twilight' Book Is Almost Here & Team Edward Is Shaking
Summit Entertainment
The future is looking bright, or perhaps sparkly, for fans of the young adult series Twilight. Fifteen years after author Stephenie Meyer released the first novel in what would become a book and movie franchise that took the world by storm, she revealed the story of Edward and Bella is not over. Midnight Sun, Stephenie Meyer's new Twilight book will tell the tale of Twilight, but this time from Edward's point of view.
Meyer made her official announcement of the upcoming novel on Good Morning America on May 4. Details were also shared on her publisher's website, and on her personal website the same day. "I wasn't sure if it was the right time to put this book out, but some of you have been waiting for just so, so long, it didn't seem fair to make you wait anymore," she said in the GMA video.
Although it's been quite some times since fans have heard from Meyer, news of this novel didn't necessarily come as a shock. In fact, Midnight Sun was originally supposed to be released in 2008, but Meyer canceled that after her manuscript for the book was leaked online. In response to what she called "a huge violation of my rights as an author, not to mention me as a human being," Meyer at the time only posted a bit of the unfinished book on her website, but never gave fans access to the final product.
So, when a countdown clock appeared on Meyer's website's homepage and on the social media pages of Fickle Fish Films (Meyer's production company), fans wondered if it had to do with Midnight Sun. Excitement was so high, her website apparently crashed when the clock finally hit zero.
Midnight Sun will be a companion piece to the beloved Twilight novels. But rather than tell a new story, it will tell an old one with a new twist. The book will retell the love story of Bella and Edward — but this time, from Edward's point of view. "There is so much more to his side of the story than there is to Bella's," she wrote on her website about the first chapter.
The news has already brought much excitement to Twilight fans.
Midnight Sun will hit stands on August 4, 2020.