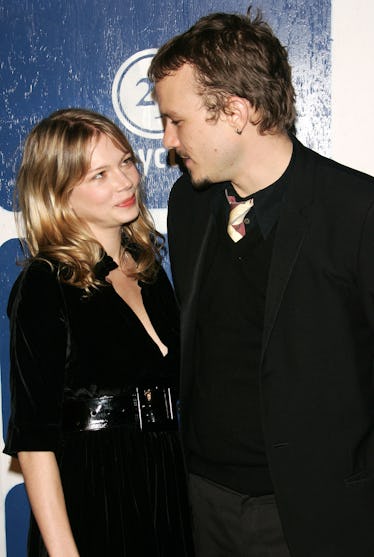 Michelle Williams Shared What She Tells Her Daughter About Heath Ledger, & Now I'm Crying
Evan Agostini/Getty Images Entertainment/Getty Images
Feel like having a good cry? Well then, get ready, because Vanity Fair just released an interview with Michelle Williams that has me feeling very emotional — and actually really inspired. Because, in addition to talking about her fight for pay equality and finding love again with her new husband, singer-songwriter Phil Elverum, Michelle Williams' quote about Heath Ledger and raising their daughter Matilda on her own, really pulled at my heartstrings.
Ledger died when Matilda was only two years old. However, that hasn't stopped Williams from keeping his memory alive in their daughter's life. In her interview with Vanity Fair, Williams opened up about what she tells Matilda about her father. In explaining the "radical acceptance" Heath had for Williams, she said: "I always say to Matilda... Your dad loved me before anybody thought I was talented, or pretty, or had nice clothes." It's a powerful sentiment, which Williams has also translated into how she raises their daughter in general, saying, "I parent to let Matilda feel free to be herself." I'm not crying, you're crying.
Speaking of crying, I remember the first time I saw Brokeback Mountain, I wept through practically the whole film. I remember my body shaking with emotion as the credits rolled and tears fell down my face. It was just so beautiful and sad, and… well, everything. From that moment on, I became a diehard fan of basically everyone in that film, but in particular, Ledger and Williams. Sure, I liked them in 10 Things I Hate About You and Dawson's Creek, respectively, but their turns as closeted cowboy Ennis and his heartbroken wife Alma absolutely devastated me — in the best way possible. Seriously folks, if you haven't seen this movie, you really need to correct that ASAP. The one sweet silver lining was that, in real life, Williams and Ledger fell in love on set, and soon after filming, Williams was pregnant with their daughter Matilda.
The couple moved to New York together and, for a while, seemed to be blissfully in love. However, after three years together, they split and Ledger moved to an apartment in Manhattan. In January 2008, just five months after the breakup, Ledger was found dead in his apartment from what was later ruled an accidental overdose. Despite having split, Williams rushed home from Sweden where she was shooting the film Mammoth. Immediately, she was sieged by the press — a time she described in her recent interview with Vanity Fair as "unmanageable to be stalked like that… every moment of the day. So I left, in a desire to create a sane home environment."
As a result, Williams and her daughter relocated from Brooklyn to upstate New York, where she could give Matilda a more normal life. However, even there, the press pursued her. She recalled, "I'll never forget going to the post office and seeing a sign hung on the wall for anyone with information about myself and my daughter, to please call this number… Um, so I took that down."
Since then, Williams has raised Matilda on her own, far away from the paparazzi. Although being a single parent hasn't always been easy, as Williams told Vanity Fair, "When you're a single parent, and that element of provider and protection is missing, it's scary." She also never stopped believing that should would find love again, specifically the kind of "radical acceptance" she felt from Ledger.
It's just such a beautiful attitude and example to set for a young woman. I think we could all do with practicing a bit more "radical acceptance" of ourselves, don't you? What do you say we start doing that today? OK? Deal.
Check out the "Best of Elite Daily" stream in the Bustle App for more stories just like this!